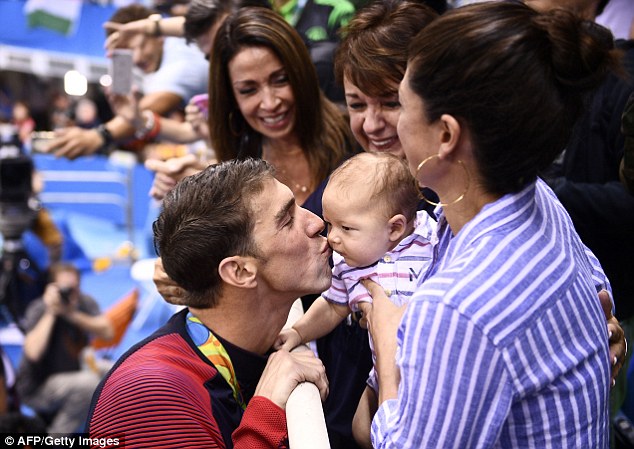 Olympian Michael Phelps secretly wed his long time girlfriend and mother to his son Boomer (We still can't believe he named his son Boomer, that is a dog's name) last June. They were married in Paradise Valley, Arizona where the couple now lives. The ceremony was officiated by Phelps' agent and friend Peter Carlisle and kept it a secret for the last 5 months. Phelps and Johnson got a marriage license on June 9 and then filed the Record of Marriage on June 15.
Michael Phelps  announced his engagement to the former Miss California in February last year. They had met at the ESPY's in 2007 and had a tumultuous relationship. They broke up in 2012 but got back together and then last May welcomed their son Boomer Robert Phelps.
Both Nicole and son accompanied Phelps to the Olympics in Rio over the summer, where he won five gold medals and a silver. They were regularly seen cheering him on from the stands. During interviews Phelps never mentioned the marriage and the media reports described Johnson as his fiancée.
Even up until last week, Phelps was denying a marriage between the two. Phelps went on Facebook and did a live video and answered questions from fans and when one suggested he was already married, he denied it. He said, "You guys can think what you want. This is my right hand." Phelps said, despite raising what appeared to be his left hand with a black ring on his ring finger.