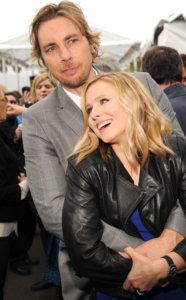 What's the key to a good relationship?  In Hollywood, where it seems like people are divorcing after a year of marriage, one might feel like they are fighting an uphill battle. Dax Shepard revealed in a new interview that he and his wife, Kristen Bell, started going to therapy early on in their relationship. They are a pretty likable couple. Dax is funny and dorky, and Kristen is adorable and cute.
Shepard, stated on Good Morning America, that the secret of his successful romantic relationship with Bell is going to therapy. Not because there are existing issues, but setting a foundation and understanding for their relationship. "We went to therapy early on to learn what our pattern of arguing was and where we needed to stop that," Shepard explained. "It's great too because you go to the therapist and he listens to you talk for about 30 seconds, and then he's like, 'I got it.' Kudos to the couple for talking openly about how to make a successful relationship and not be passive. Too many relationships are based on emotion and not enough effort and intentional action. It's great to hear about a Hollywood couple being pro-active about relationship success.
The actor also noted that he believes couples often seek counseling when it's too late. "Most people wait until the thing is exploding before they see a professional," he said on Wednesday morning. "I thought maybe an ounce of prevention this go-around would be advisable."
The Hollywood duo who tied the knot in 2013, six years after meeting each other in 2007 are now starring together in CHiPs, a revival of the iconic '70s TV series. In the film, Bell plays the ex-wife of Shepard's pro-racer-turned-highway-cop Jon Baker. CHiPs hits theaters on Friday, March 24.
"We have a very healthy marriage and we got there by doing therapy when we needed it, and constantly doing fierce moral inventories," Bell said. "We both take responsibility when we are wrong, and I think it is easy to work with him because I married him, because I enjoy spending time with him and I trust him. That is exactly what I want in someone that I work with."