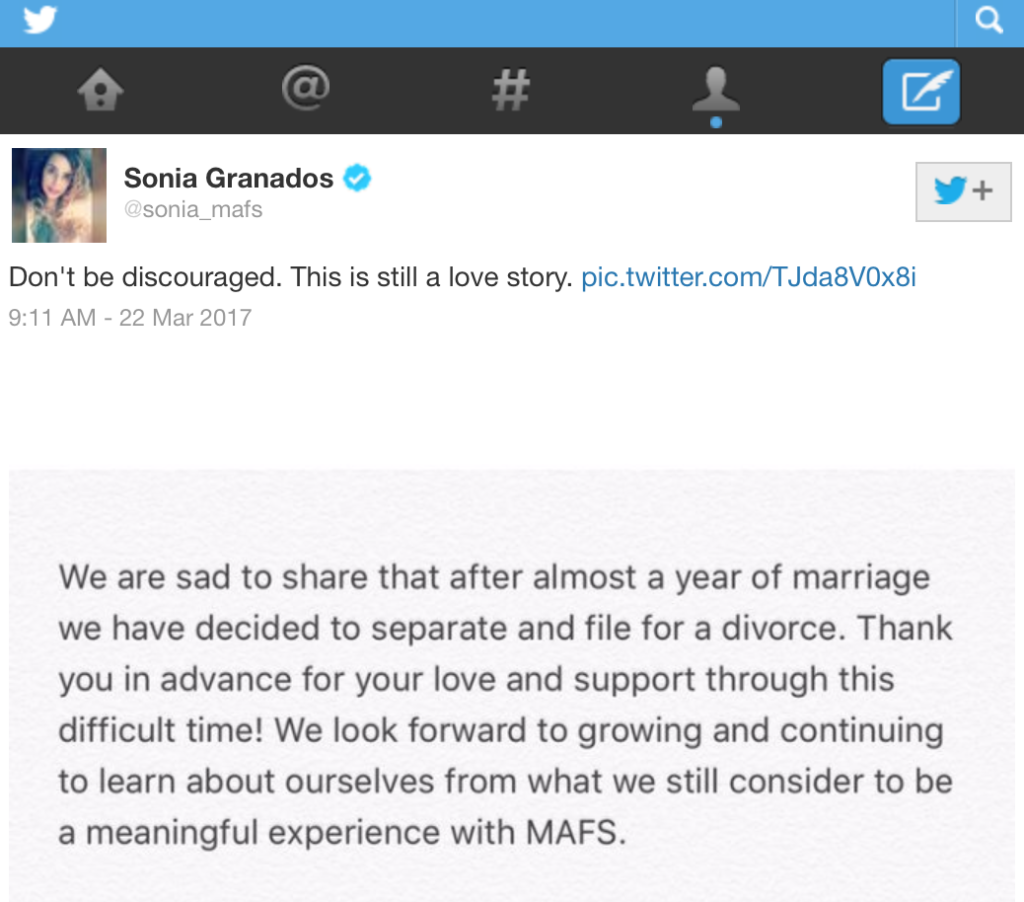 Sad news in the divorce world, one of the Married at First couples from last season has called it quits. Sonia Granados and Nick Pendergrast are filing for divorce. The pair announced the news in a joint statement via Twitter on Wednesday, March 22. This couple had a rough time during during the first few weeks of their marriage experiment. Although, it appeared that they would be getting divorced at the end of the season, they decided to stay together and work it out.
The statement that the ex-couple posted on Twitter was a very sweet statement. The statement read, "We are sad to share that after almost a year of marriage we have decided to separate and file for divorce," the statement read. "Thank you in advance for your love and support through this difficult time! We look forward to growing and continuing to learn about ourselves from what we still consider to be a meaningful experience with MAFS". Granados prefaced the posted statement with her own statement. "Don't be discouraged. This is still a love story".
Granados and Pendergrast met on season 4 of the A&E series. They struggled a lot early on in their relationship. The first issue that arose is that Granados was scared of dogs and Pendergrast owned a dog. She struggled with the acceptance of his dog. The second issue that arose was when Pendergrast stated that he wasn't physically attracted to Granados. After one particular explosive fight, Granados moved out, unable to deal with the tension anymore. Even after all those issues, at the end of the season, they decided to stay together much to the surprise of fans.
But it looks like that happy ending that we all hoped for was not meant to be. Although, no further details have emerged at the time, it does appear that the split was amicable. We wish these two the best even if that means they can't be together.