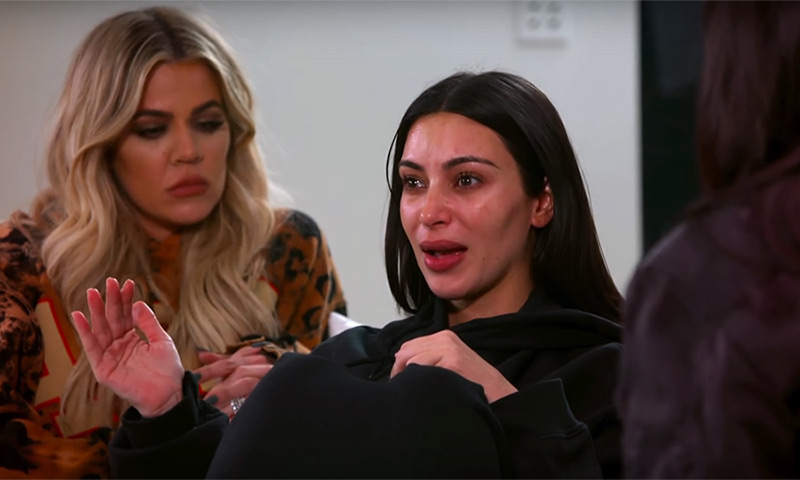 In the latest episode of Keeping Up With The Kardashian's, Kim Kardashian finally tells the harrowing tale of the night she was robbed at gun point in Paris last year. She revealed details from that night about her fear of being raped and killed. The heist was France's biggest jewelry theft involving a private citizen in more than two decades and the thieves stole around $10 million worth of jewels. There were 17 people arrested in connection to the armed robbery and ten have been charged so far. The episode was difficult to watch at times when Kim describes in detail what happened that night. The episode recounted details that had never been released before.
The episode shows Kim in the weeks following the robbery, explaining to her sisters Kourtney, 37, and Khloe Kardashian, 32, what transpired that night on October 3rd, 2016. Both sisters watched with sadness on their faces and Kim recounts when the thieves first broke in. She said that one man grabbed her and at that moment Kim feared that he was going to rape her, "He grabs my legs, and I wasn't, you know, I had no clothes on under. He pulled me toward him at the front of the bed and I thought, "Okay, this is the moment they're going to rape me."
She continued saying that "I fully mentally prepped myself – and then he didn't.  He duck taped my legs together and had the gun up to me. I knew that was the moment they're just totally going to shoot me in the head."
Kim was fearful that they were going to kill her and that her sister Kourtney was the one that would find her body. Kim said that "I'm not going to make it out of here. I know how these things go." Kim said that her final prayer was that Kourtney would still be able to "have a normal life" after she sees Kim's "dead body on the bed". She cried when she recounted the moment that she worried about her sister experiencing the trauma of finding her sister dead.
Before they could put duct tape over Kim's mouth, she begged the hotel concierge, who had been forced to bring the robbers up to the star's room, to tell them she had babies and a family. Kim asked, "Are we going to die? They can't understand me, but please tell them I have babies, I have a family, let me live!"'
The group of robbers then asked for money after she gave them her $4 million ring. When she said that she didn't have any money, the robbers "Dragged me out to the hallway on top of the stairs. That's when I saw the gun clear as day. I was looking at the gun, looking at the stairs… either they're going to shoot me in the back, or if I make it and they don't, if the elevator doesn't make it in time or the stairs are locked then I'm like f***ed. There's no way out."
The robbers, who were dressed as Parisian Police, then threw her into the bathroom and took off. Kim then hid behind a bush outside on the balcony as the actual police arrived. She said that she was still fearful because the robbers where also dressed as policeman.
The ring of thieves have since been tracked down and caught but unfortunately, Aomar Ait Khedache, a 60-year-old Frenchman who was thought to be the ringleader, told police the gang melted down and sold off most of the stolen jewelry. They did keep the engagement ring though because it was too hard to sell. Kim, in the aftermath of the robbery, quit social media for three months. The robbers have since admitted that they were able to track Kim's and her family's movements during the week through social media postings. Kim decided it was for the best for the safety of both herself and her family, if she took a break from social media. She has recently started tweeting again, thanking her fans for their support during this difficult time.