In the midst of the Israel-Hamas conflict, Selena Gomez's makeup brand, Rare Beauty, has taken a stand by expressing its concerns and offering support to the Palestinian civilians affected by the ongoing violence. Despite facing backlash for her initial neutral stance on the conflict, Gomez and her brand have now pledged donations to organizations providing urgent care on the ground. In this article, we will delve into Rare Beauty's statement and explore the controversy surrounding it.
Rare Beauty's Statement: A Call for Support
Rare Beauty, through an Instagram post, expressed its devastation over the images and reports coming from the Middle East. Thousands of innocent Palestinian civilians have lost their lives in Israeli airstrikes, with millions more displaced and lacking access to vital resources. The brand emphasized the need to protect Palestinian civilians, particularly children. Rare Beauty also condemned all forms of anti-Semitism and Islamophobia.
The makeup brand announced its commitment to making donations to organizations providing urgent care on the ground. These include the International Red Cross/Red Crescent Societies, the Magen David Adom (Israel's national emergency service), the Palestinian Red Crescent Society, and UNICEF. By supporting these organizations, Rare Beauty aims to contribute to the provision of urgent medical relief and resources to the children of Gaza.
Controversy and Backlash
After Rare Beauty announced its intentions to support those affected by the conflict, the brand faced criticism and calls for a boycott. Some individuals questioned the authenticity of the statement, while others accused Rare Beauty's CEO, Scott Friedman, of being a Zionist. Claims were made that the donations would indirectly fund the ongoing conflict in Gaza. These controversies surrounding the brand's involvement in the Israel-Hamas conflict have sparked heated discussions on social media. People took to social media to express their anger over the announcement.
Idc if Selena Gomez had rare beauty post about a humanitarian crisis in Gaza. Her CEO still a Zionist. Don't fall for it.

— Free Palestine 🇵🇸 (@imannoo_) November 6, 2023
Providing urgent medical care to Palestinian through who? ISRAEL??? they same people that's killing Palestinian civilians???? BOYCOTT RARE BEAUTY AND SELENA GOMEZ https://t.co/MbS7aIvM3I pic.twitter.com/veKQnQfU6d

— reesha 🇵🇸 (@pikaonaction) November 6, 2023
selena gomez is being so stupid right now. she is downplaying her massive following and being hypocritical. if a post can't help change the world why call yourself a philanthropist?? why post about mental health, blm, womens rights, american elections etc etc pic.twitter.com/iw61aOxAIf

— jav (@parkwoodfilms) October 31, 2023
Rare Beauty's Commitment to Inclusivity
Rare Beauty highlighted that the DNA of their company is rooted in inclusivity. The brand prides itself on having a diverse workforce comprising individuals from various backgrounds, including race, creed, sexuality, gender identity, and religion. Many of their employees have been directly impacted by the recent violence. Recognizing the diversity within their community, Rare Beauty called for kindness and compassion among its followers during these difficult times.
Selena Gomez's Stand: From Neutrality to Support
Selena Gomez, the face behind Rare Beauty, initially faced criticism for her neutral stance on the Israel-Hamas conflict. However, she later clarified her position, expressing her sorrow over the violence and her desire to protect all people, especially children. Gomez acknowledged that a social media post alone would not be enough to bring an end to the conflict but emphasized her commitment to standing against hate and violence. Her first post on her Instagram said, "I've been taking a break from social media because my heart breaks to see all of the horror, hate, violence, and terror that's going on in the world. People being tortured and killed or any act of hate toward any one group is horrific. We need to protect ALL people, especially children and stop the violence for good. I'm sorry if my words will never be enough for everyone or a hashtag. I just can't stand by innocent people getting hurt. That's what makes me sick. I wish I could change the world. But a post won't. Love, Selena."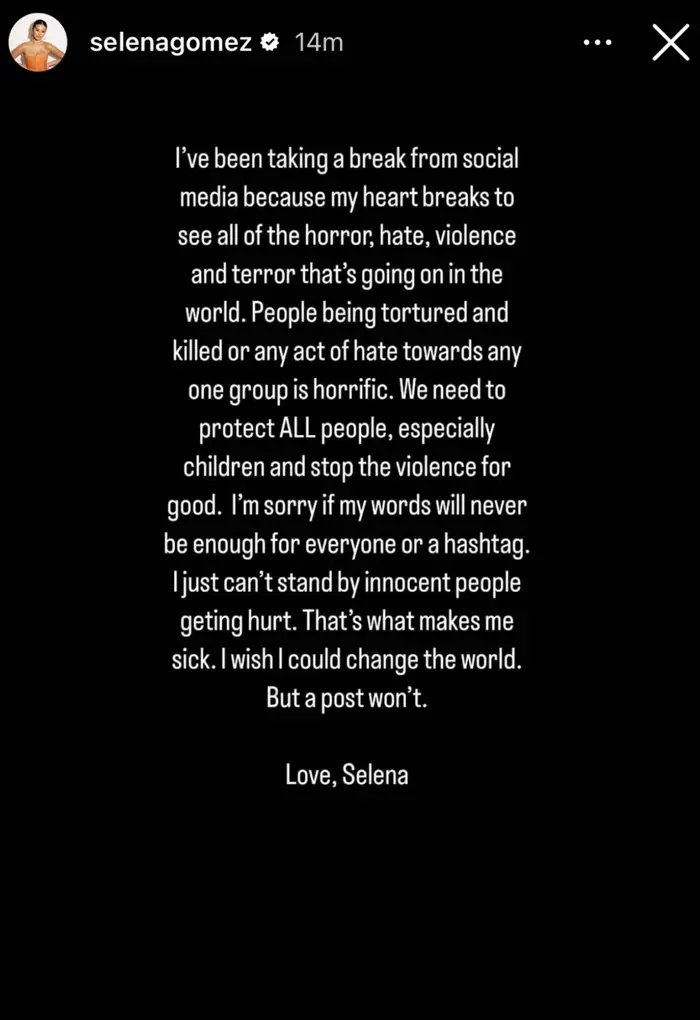 Credit to @SelenaGomez
Rare Beauty's Impact: A Call for Unity
Rare Beauty's involvement in the Israel-Hamas conflict has sparked intense debates across social media platforms. While some individuals remain skeptical of the brand's intentions, others have praised Gomez and her team for taking a stand and using their platform to raise awareness. The controversy surrounding Rare Beauty's statement has ignited conversations about the role of brands in addressing global issues and the responsibility they hold in promoting unity and compassion. It also started conversations about whether celebrities should speak out on international issues.
The Power of Social Media in Activism
The controversy surrounding Rare Beauty serves as a reminder of the power of social media in activism. Selena Gomez's large following on Instagram, with over 430 million followers, amplifies her reach and impact. While her initial neutrality drew criticism, her subsequent statements and Rare Beauty's donations highlight the potential for celebrities and brands to use their platforms to raise awareness, challenge injustice, and make a difference in the world. However, Rare Beauty's call to action has also caused people on social media to question Gomez's motivation in asking for donations.