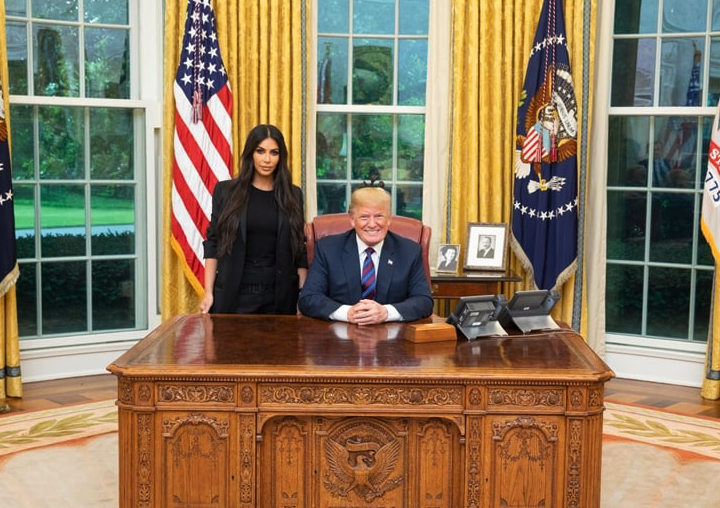 After criticizing Trump since he was inaugurated, Kim Kardashian West has gone to Washington D.C. to meet with him to hopefully get clemency granted to Ms. Alice Marie Johnson. She arrived yesterday with her attorney, Shawn Holley, to meet with the president. This meeting has been in the works for months.
Ms. Alice Marie Johnson is serving a life sentence for a first-time, non-violent drug offense. The 63 year old grandmother was convicted in 1996 on eight criminal charges stemming from a cocaine trafficking operation involving more than a dozen people. As of today she has spent 20 years behind bars and is not eligible for parole.
Johnson has been honest about what led for her to become involved in drugs. She had lost her job at Fedex due to a gambling addiction, she got divorced, and her son died in a motorcycle accident. She said during a recent interview, "I felt like a failure… I went into a complete panic and out of desperation, I made one of the worst decisions of my life to make some quick money. I became involved in a drug conspiracy."
Kardashian West first heard about Johnson's plight in from a Mic video posted last October. Kardashian West shared the video on Twitter and the video was viewed more than 8 million times.
Sources are saying that the meeting went well and that Kardashian West feels that this is going to move in a positive direction. She also met with Jared Kushner and Ivanka for dinner to discuss the potential pardon.
Kim Kardashian West issued a statement that said, "I would like to thank President Trump for his time this afternoon. It is our hope that the President will grant clemency to Ms. Alice Marie Johnson who is serving a life sentence for a first-time, non-violent drug offense. We are optimistic about Ms. Johnson's future and hopeful that she—and so many like her—will get a second chance at life."
When Johnson realized that Kardashian West was meeting with the president about commuting her sentence, she penned a very emotional letter thanking the reality tv star. Johnson wrote, "Ms Kardashian you are literally helping to save my life and restore me to my family. I was drowning and you have thrown me a life jacket and given me hope that this Life jacket I'm serving may one day be taken off."
There is no word yet whether Trump will commute Johnson's sentence but he did tweet that he had great meeting with Kardashian West.