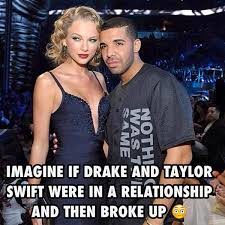 Some celebrity couples just make sense and some seem to be completely out of the blue. In the latest weird celebrity couple, it is reported that Drake and Taylor Swift are in the beginning stages of a relationship. Taylor has even met Drake's mom!
Drake just celebrated his 30th birthday and sources connected to Drake tell us he introduced Swift to his mom and several of his homies during his party on Sunday night party in WeHo. Taylor has not been connected to Drake in the past so it seemed out of place that she was even there in the first place which is why he wanted to make sure she met his inner circle, including his Mom.
This is a big deal because it wasn't that long ago that the rumors of Drake and Rihanna dating were swirling around and now it appears like he is getting close to Taylor. A source told TMZ  said that they are close, but only friends. They have been for years and they even hung out at the 2013 VMAs.
This is a couple that actually makes sense to us over at Celeb Voice. Drake is known for having all the feelings and Taylor seems to also have a lot of emotions. These could actually make a great couple.