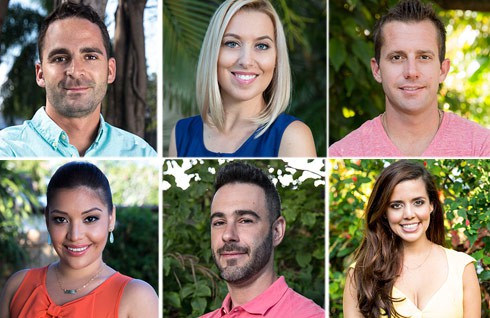 Well the social "experiment" has come to an end. One couple, Derek Schwartz, 35 and Heather Seidel, 32 had already made the decision three weeks in to end the marriage despite Derek's pleas. So what about the other two couples? Did Tom Wilson and Lillian Vilchez stay together and what about Sonia Granados and Nick Pendergrast?
Starting with Sonia Granados and Nick Pendergrast- they decided to STAY TOGETHER! This comes as a shock because they seemed destined for a split once Nick informed Sonia that he wasn't attracted to her. She moved out but then decided to move back in right before decision day. Nick, who sometimes has difficulty expressing his emotions, actually showed some excitement when she decided to move back in. Before they went into to the meeting with the specialist, Nick and Sonia really seemed to share some moments of actual happiness. As part of one of their relationship building exercises, they made a vision board for their future together and they appeared to be on the same page about a lot of life goals, including having kids. They also gave each other gifts.  Nick gave Sonia a silver chain that Nick clearly put some though into and she seemed really touched by it. She gave him cactus print underwear because he's a bit 'prickly', and a shirt featuring a poop emoji and Nick thought it was a pretty funny gift. Both seemed really happy before heading into the meeting.  During their meeting with the show's relationship experts, Dr. Pepper Schwartz and Rachel DeAlto, both Sonia and Nick agreed that their relationship has had some ups and downs but Nick admitted that he has learned to be more empathetic and to think twice before saying something that might hurt Sonia. While she said their time together has made her a better communicator. After everything, they decided to stay together and doggone it we hope that this crazy couple actually makes it.
Now moving on to Tom and Lillian. This couple seemed to be destined to make it. They were immediately attracted to each other and seemed to have a good connection. Half way through the experiment though, their differences started to drive a wedge between them. Tom started to have second thoughts about their marriage.  Both of them were concerned about their different lifestyles and goals for the future. Sonia said she wants to make a lot of money and wants to maintain a certain lifestyle while Tom's dream was to be able remain carefree and travel on his converted bus.  Children also became an issue.  Tom noted while making their vision board that he would like to adopt a child but Lillian would like to at least give birth to their first child before they adopt. The couple also exchanged gifts with each other. Lillian gave Tom a cardboard cutout of her heart and he gave her an alarm clock to symbolize their time together. After they exchanged gifts Tom said, "I am a little bit nervous about my decision today. You know, I don't want to break Lilly's heart and I don't want to have set such a high expectation either. Things could go either way." Meanwhile, Lillian was always for staying together. When they finally met with the specialists, it seemed like Tom was about to break Lillian's heart, but when the final decision was made, he decided to stick it out with her.
It appears as if the social experiment might have actually worked this time. Two out of the three couples decided to stay together. It will be interested to see what happens after the first 6 weeks. Most likely we will soon be seeing a follow up show to check in on their progress.