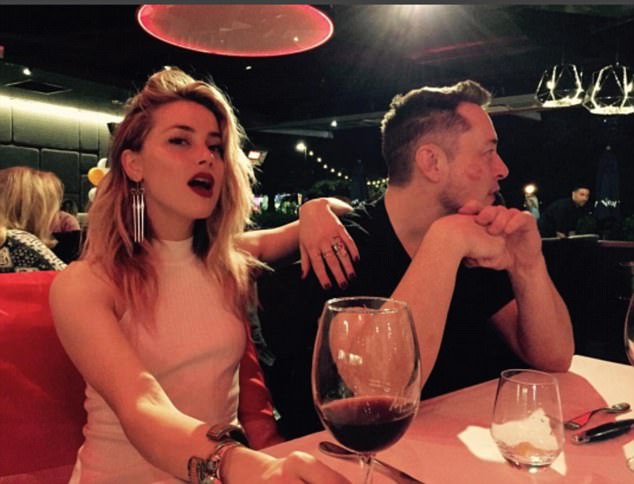 Amidst all the crazy gossip news that has been circulating this weekend (Here's looking at you Mel B.), it's nice to report some happy celebrity relationship news. After a year of speculation, Amber Heard finally confirms her relationship with tech billionaire, Elon Musk. She posted a pretty adorable photo on her Instagram of both her and Musk out to dinner and finally confirmed what we have suspected all along.
The photo showed Amber looking at the camera with her arm resting on his shoulder. He is facing away from the camera with a smile on his face. Amber was wearing a bright red lipstick and there is a bright red lip stick mark on his cheek. The caption of her photo said, "Cheeky". The sweet photo immediately caught the attention of publications worldwide. Heard is absolutely glowing in the photo and appears to be very happy. Musk then shared a very similar photo on his Instagram with the caption, "Having moo moo at Moo Moo Gold Coast with @AmberHeard, @CreepyPuppet and @CowanFilms."
Musk and Heard are currently in Australia for a business visit for Musk. We reported last month that we heard that this trip was happening but didn't get a confirmation from either Heard or Musk's camp. Aside from the business visit, Musk and Heard took time to sightsee while visiting. The couple headed to the Currumbin Wildlife Sanctuary to take in the sights and to even zip line through the forest.  Even some of Musk's children were present to enjoy the wildlife sanctuary while Musk and Heard were seen holding hands and being affectionate.
Things have been looking up since her very public divorce from Johnny Depp last year. She has been cast as Aquaman's wife Mera in the upcoming Justice League movie coming out in 2017 which is currently in post-production. There is also be an Aquaman  movie coming out in 2018 which she will reprise her role as Mera. And now she is happy in love with Musk.
We have been cheering for Musk and Heard since it was rumored that they were dating. Cheers to the new couple and best of luck!