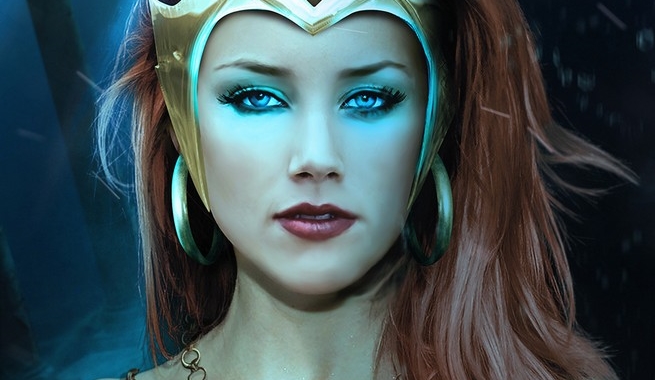 After the disastrous last visit to Australia, Amber Heard is reportedly heading back to Australia and this time it is with rumored boyfriend, billionaire Elon Musk. Musk is planning a business trip to Australia and it is being reported that Heard will be accompanying him. Heard also will be heading back to film the upcoming blockbuster Aquaman alongside Games of Thrones star Jason Momoa.
Amber Heard has been rumored to be have been dating the tech billionaire since her divorce from Johnny Depp. Friends have reported that Heard is smitten with Musk and they have been seen out together very recently. The attended a screening of Al Gore's "An Inconvenient Truth Sequel: Truth to Power" together in Palo Alto earlier this week. The event was hosted by Apple's Tim Cook, had a star-studded crowd that included actress Michelle Pfeiffer, Viacom's Bob Bakish and many others. Th two appeared in the 2013 film Machete Kills and even though they did not have any scenes together and were not able to meet on set, Musk just knew that he had to meet Heard. He emailed director Robert Rodriguez asking if he could set up a meeting between the two. He was not interested in dating Heard at the time because she was with Depp but he was looking to get to know her as friend. They maintained a friendship for years and only recently have begun dating after both parties were divorced from their significant others.
Last time Heard was in Australia it was with her ex-husband, Johnny Depp. Depp was filming Pirates of the Caribbean: On Stranger Tides and Heard moved there with him while the movie was being filmed. They decided to bring their dogs, Pistol and Boo, with them. Australia has very strict quarantine regulations and the dogs never went through quarantine. Her very last visit was to appear in court over the dog smuggling charges. Heard was truly apologetic and a magistrate gave Heard a one-month good behaviour bond and a $1,000 fine over the incident. Heard paid the fine and released an apology.
Musk is potentially heading to Australia to help fix South Australia's power network. Musk stated that he can solve the state's energy woes within 100 days or he'll deliver the 100MW battery storage system for free. Lyndon Rive, Tesla's vice-president for energy products, told the AFR that the company could install the 100-300 megawatt hours of battery storage that would be required to prevent the power shortages that have been causing blackouts and price spikes. Musk is currently in talks with South Australia's politicians to see what can be worked out.
Let's hope this trip goes more smoothly for Heard. She paid her debt and genuinely apologized for the incident. We wish this couple the best of luck in the near future and on their upcoming trip!