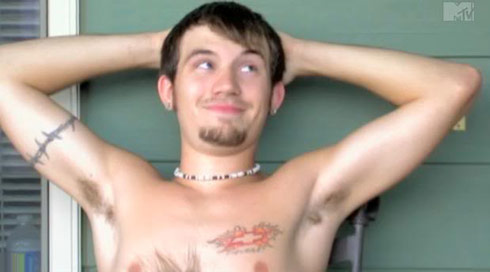 Adam Lind has pretty much always been on the wrong side of the law. There is very little positive news coming out of his camp since the very first episode of the show. He has been arrested more times than we care to remember and is consistently having issues with both his baby mamas. This time the news appears to be even worse than ever. He recently made the news because he just failed a court-ordered drug test and he tested positive for both methamphetamine and amphetamine. 
The reason why the court even issued a mandated drug test for Adam started with some drama between himself and his second baby mama Taylor Halbur. Thanks to some detective work over at the gossip site, The Ashley's Reality Roundup, they uncovered the failed drug test and reported on it. When they got wind of news that Adam and Taylor were in court again, they decided to check and see what it was about. They found public records that say that Adam had over 300 ng/ml of amphetaminedetected in his system, as well as over 800 ng/ml of methamphetamine.
Once the news broke, multiple reality tv gossip sites have been reported that they had suspected as much due not only to his erratic behavior but also that sources have been saying that Chelsea and Taylor suspected possible drug use. It has been reported that Chelsea and Taylor took their suspicions down to the court house and were able convince a judge to issue a court ordered drug test. The sample was tested twice and both times it came back dirty. His unsupervised visits with his daughter, Paislee, were revoked. He already has supervised visits with his daughter, Aubree, so that is going to stay the same.
This news comes as no surprise to Teen Mom fans. Adam has been in and out of trouble for years now and his has been displaying very erratic behavior on the show. Last season he was seen fighting with the camera crew, locking them out of his house, fighting with his baby mama's, not paying child support, and just being all around terrible person. He has always been combative but this last season saw Adam becoming more and more angry and aggressive. He was constantly complaining that MTV was editing the footage to make him look like the bad guy. Although we know that reality tv can be pretty liberal with their editing, Adam did a pretty good job of making himself look like the bad guy.
It remains to be see if he will be filming soon the upcoming season of Teen Mom but rumors are swirling that he will not be included.