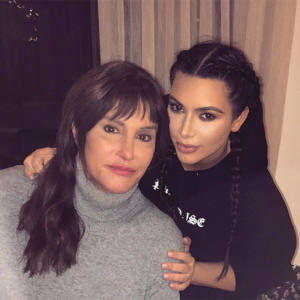 The Kardashians never leave us wondering what they think. Kim Kardashian West is not holding back on her opinions of Caitlyn Jenner's revealing new book. During an appearance on The Ellen DeGeneres Show that will air Thursday, the 36-year-old reality star spoke honestly about Jenner's new memoir, The Secrets of My Life, claiming that parts of the revealing book aren't true. Kim said, "My heart breaks for my mom you know because I feel like she's been through so much and Caitlyn is promoting this book and she's saying all these things," Kardashian West told host Ellen DeGeneres. "I don't think it's necessary and I just feel like it's unfair, things aren't truthful."
In the new memoir that was released earlier this week, 67-year-old Jenner opened up about everything from her decision to transition in 2015 to her decades-long marriage to Kris. The Kardashian-Jenner family matriarch, 61, has reacted angrily to the passages about the claims that she knew Jenner was transgender before they got married."I feel like it's taken Caitlyn a really long time to be honest with herself, so I don't expect her to be honest about my mom now. But it's just so hurtful. I wish her all the success in the world, but not at our expense," said Kim
Kardashian West's relationship with Jenner has seen its up and downs in the wake of the Olympian's transition. The mom of two has been a vocal supporter of Jenner but has urged the star to not "bash" the Kardashian family. Now, Kardashian West revealed she hasn't spoken to Jenner in weeks, but added, "I'll always love her." "That was my stepdad for so many years. She taught me about character and so much growing up and I just feel like I don't respect the character that she's showing now," the Kim K  told DeGeneres.
"Like I said, I'll still always have major love for her, for who she was in my life … It's still Kendall and Kylie's dad so I wanna be respectful, but I just feel like there's no need for a book."
She added: "Tell your story but don't bash other people. I just think it's not, like, tasteful." It seems that Caitlyn might have been bottling up a lot of hurt and resentment, and this book is her outlet. We have to admit that living with all the Kardashian women for all those years was probably not always easy. We are happy that Caitlyn is able to express her true self in daily life and express her story through her book. It seems like all family members have supported Caitlyn so far, but it will be interesting to see how dynamics change after the book release. This family does have a strong sense of loyalty and have always supported and come back around to each other after disagreements. We'll see how this all ends up playing out.