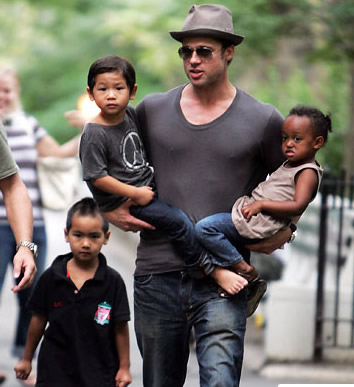 Still reeling from last night there is at least one person that America can believe in again and it's America's favorite actor Brad Pitt. After the heartbreaking news that the super A-list Hollywood couple would be divorcing, the news only got worse when it came out that the driving force behind the divorce was allegations of child abuse against Pitt. After a very intense and thorough investigation, he was cleared of any child abuse allegations by the L.A. County Dept. of Children and Family Services. This a big win for Pitt in the fight for custody of the children that he shares with Angelina Jolie.
TMZ reported that they were informed by Law enforcement that DCFS concluded Wednesday it would close the investigation involving an incident in September between Brad and Maddox on a private jet. This incident was rumored to have been the breaking point for Jolie. She filed for divorce shortly after. It was determined that Pitt did not commit child abuse during an argument on the plane that ended with physical contact.
Social workers interviewed Brad, Angelina, the kids and witnesses on the plane. Everyone cooperated in the investigation and answered all the questions that DCFS has regarding the incident. Jolie claimed that this incident was part of a pattern of abuse on Pitt's part that has gone on for years. DCFS didn't buy Jolie's claims and it was determined that no further action will be taken against Pitt.
This outcome is very favorable for Pitt in this custody battle. Currently there is a temporary custody agreement in place while Pitt is fighting Jolie for joint custody. California judges favor joint custody, unless it would be harmful to the kids so this could potentially mean that Pitt might get his wish.