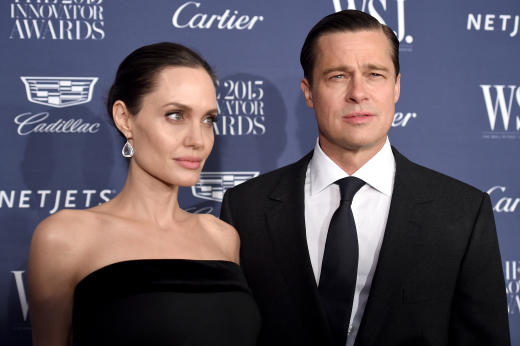 After announcing the demise of their relationship, the divorce is full steam ahead. There have been a few updates regarding the status of the Jolie/Pitt divorce saga. We haven't done the individual updates so we have grouped them all together. It's getting less messy but a lot has happened in a short amount of time. Reports have been conflicting over a lot of the events that kicked the divorce off so like everyone else, we are confused over what has actually happened. Rumors have been flying around that Pitt had an affair with Marion Cotillard and even Jen Aniston got dragged into it. Here are the things that we can confirm.
Update #1: They have agreed on a temporary custody agreement over the next three weeks. According to TMZ, the temporary agreement includes the following:
-Angelina gets temporary physical custody of the 6 kids until Oct 20th.
-Brad gets visitation, with strings attached. The initial visit is with a therapist present and the therapist then has the power to either allow Brad subsequent unmonitored visits or insist on being present whenever he's around the kids.
-Brad is subject to random drug/alcohol testing.
-Brad and Angelina will each submit to individual counseling and Brad, Angelina and the kids will undergo family counseling together.
Update #2: Jolie doesn't want Pitt charged with child abuse. She has stated that she will not cooperate with law enforcement if they decide to move forward with charges. Originally, she was working with the authorities but then changed her mind. There has been multiple accounts of what happened on the plane that kicked off the divorce. Sources have said that Pitt hit their son Maddox in the face but then another source said that Pitt lunged at Maddox and Jolie got in the way protecting her son. Since the reports are conflicting and Maddox had no visible wounds, it is unlikely that Pitt will be prosecuted.
Update #3: Angelina Jolie has added a new member to her powerful legal team. She has added  Pierce O'Donnell and Bert Fields to her roster of legal masterminds. Pierce and Bert are the lawyers who helped  Donald Sterling's ex-wife Shelly Sterling nail him to the wall. They're joining a group that already includes the real-life Olivia Pope Judy Smith, Robert Offer, and Laura Wasser. This is the best team that she could possibly assemble to help her with this divorce.