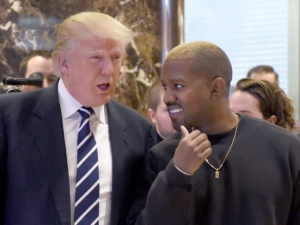 Kanye West doesn't seem fazed by the backlash levied against him by fans and friends for meeting with President-elect Donald Trump. This move doesn't look great for Trump considering Kayne's turn of unfortunate events lately. He was admitted in November to a hospital and released early December after having a mental breakdown. Not sure what qualifications or business he has with the President-Elect. Not that we are impressed with Trump's advisors or circles, to begin with.
A day after the hip-hop mogul's meeting with Trump at Trump Tower in New York, West on Wednesday tweeted a signed copy of TIME Magazine's "Person of the Year" issue with Trump on the cover.
A report from CNN stated, "This is the latest sign that West has some sort of admiration for the President-elect and is ready to work with him on issues that the rapper cares about, particularity the poverty and the violence that have plagued his native Chicago." Kayne should probably work out his personal issues before taking on the nations. If you are not in a good state of mind, you shouldn't be advising national issues. Kayne is neither respected nor admired by the general public. We are not sure why he thinks he is a suitable candidate to deal with these large issues. Once Mr. West returned to the lobby with Mr. Trump, he didn't provide much information about the reasons for his visit. Seems a bit suspicious and weird if you ask me…. Our government is going to be run by reality TV stars. Fantastic.
Kayne tweeted that the meeting, which was requested by the rapper, was an opportunity for the rapper to discuss "multicultural issues." We are not impressed with the future of our country. If "Making America Great Again" means depending on Kayne West, we are in for a bumpy four years. Is Trump "draining the swamp" or just replacing the swamp with people who are just as unqualified?