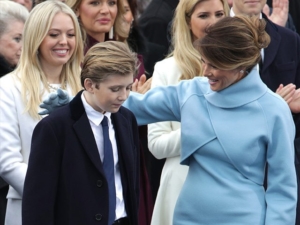 Saturday Night Live writer Katie Rich has been suspended indefinitely from her job at the NBC show after she posted a controversial tweet about President Donald Trump's 10-year-old son, Barron.
During Trump's inauguration ceremony on Friday, January 20, Rich tweeted that "Barron will be this country's first homeschool shooter."
Yikes. This tweet drew instant backlash on social media, causing the comedian to delete the tweet and deactivate her account.
Rich reinstated her account on Monday, January 23, and apologized for taking a shot at the child. "I sincerely apologize for the insensitive tweet. I deeply regret my actions and offensive words," she wrote. "It was inexcusable & I'm so sorry." I love SNL, and they are good at conveying political controversies in a creative and funny way. This was neither of those things.
Not a great moment for Rich. I would say that most of us would like to be different than our parents in some aspect, and to compare a 10-year-old child to a shooter is not okay. Social Media and Fake News have made this election cycle more toxic and divisive than normal. Trying to keep it focused on the politicians and not the kids is a civilized thing to do.
Some powerful politicians came to Barron's rescue. Many people, including former first daughter Chelsea Clinton defended Barron and argued that children of politicians should be off-limits. "Barron Trump deserves the chance every child does-to be a kid," the 36-year-old daughter of former president Bill Clinton and former secretary of state Hillary Clinton tweeted on Sunday. "Standing up for every kid also means opposing @POTUS policies that hurt kids."