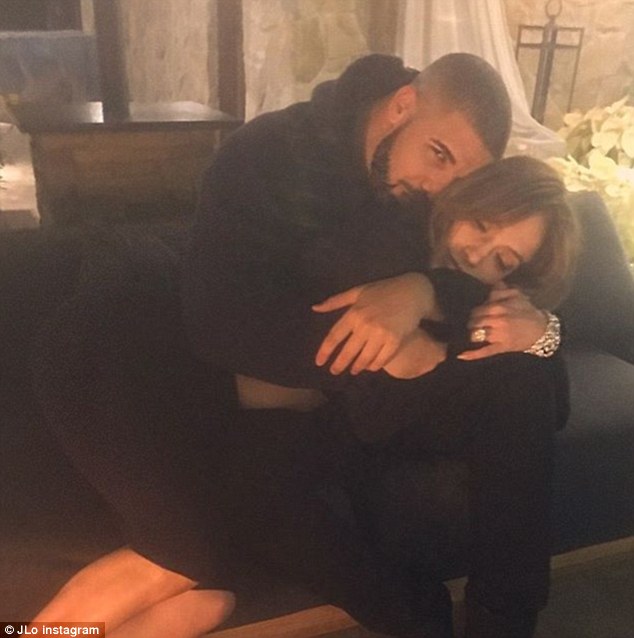 After so much sad news lately, it nice to hear about something happy. There is love in the air. Musicians Jennifer Lopez, 47, and Drake, 30, have seem to be hinting that they are a hot new item. They both posted a pretty romantic photo on their official Instagram accounts early on Wednesday morning.
There was no explanation attached to the photo so fans were left speculating as to the truth behind the photo but it seems like Drake and JLo are more than just friends.  The 47-year-old mom-of-two was the first to post on to post the loving picture, which shows her younger contemporary wrapping both arms affectionately around her neck with one eye staring down the lens of the camera.
Rumors started flying about a potential relationship when Drake attended two of Jennifer's shows in Las Vegas back to back and then went to a intimate gathering together. The gossip mill just assumed that they might be friends because Rihanna and JLo and friends and Rihanna and Drake have always had an on again off again relationship.
Rihanna and Drake have never really confirmed a relationship status. They always insisted that they were just friends until about 2009 when they were spotted kissing. They still insisted that they were just friends. They have collaborated on music together and have always seemed to be going fine until now. It appears that Rihanna has unfollowed both Drake and JLo on Instagram so it appears that maybe they were more than just friends despite the insistence that they were never together.
We are pretty stoked on this couple. Although there is quite the age difference, JLo has never looked better. We wish them the best!