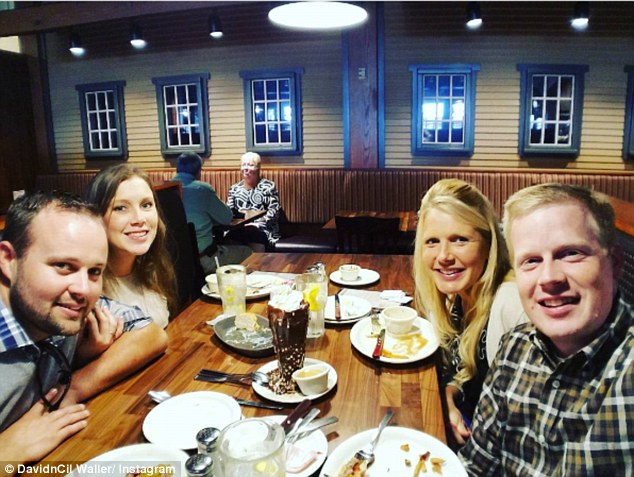 Despite rumors stating otherwise, it appears that Anna is still trying to make a marriage with her cheating husband work. The couple was seen together at sister Jinger's wedding this last weekend and they appeared to be intimate. They were also seen at the wedding with TLC filming but TLC promised to keep him off camera so he will not be shown on the show.
The Anna was seen enjoying dinner with her husband, her sister Priscilla Waller and her brother-in-law David in an photo posted to Instagram. The caption read, "Thank you, Josh & Anna, for a wonderful weekend together topped off with a fun #doubledate this evening! You'll are doing great! #sistertime #familytime," wrote David in the Instagram caption. Anna is seen smiling in the photo as she links arms with her husband. The dinner date was the day after Jinger's wedding to her soccer playing fiancé Jeremy Vuolo. The couple was married in front of 1,000 guests at the Cathedral of the Ozarks in Siloam Springs, Arkansas.
At the wedding it appeared that Josh and Anna were doing really well. The celebrated their eight year anniversary last month. It is now over a year since the news broke that Josh molested five minors as a teenager, including four of his sisters and he was caught cheating on his wife using the website Ashley Madison. He was never tried or charged for those offenses, and law enforcement was never notified in any official capacity by his parents. Josh was then sent to rehab for this porn and sex addiction.
In Touch Magazine reported that the couple was headed for a divorce but pictures from the wedding paint a different picture all together. A family insides told the magazine that she was going to be visiting an attorney sign to get papers drawn up but knowing the Duggars it is highly unlikely. Being married to one of them is a prison sentence because they do not believe in divorce regardless of how much of a scumbag your husband is.