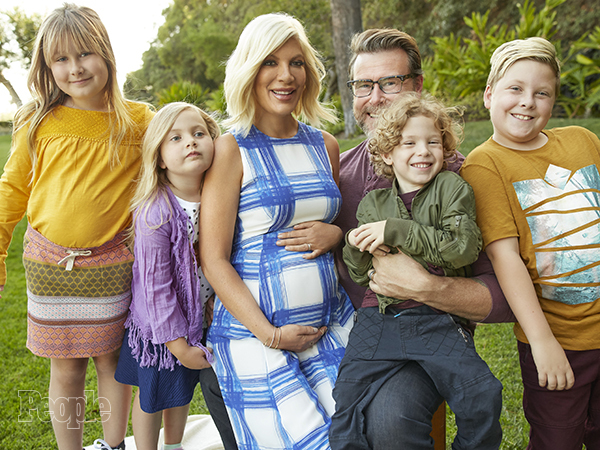 That is a whole of kids. Tori Spelling is pregnant again and this time it wasn't planned. The former tv star confirmed that she is pregnant with her 5th child to People Magazine.
In an exclusive interview with People, Tori said, "It was a total surprise but we always wanted a big family. I'm really excited." Both her and her husband, Dean McDermott, are looking forward to adding to their large family. The pair are already parents to Liam 9, Stella, 8, Hattie, 5 and Finn, 4. Dean also has an 18-year-old son, Jack, from his previous marriage.
Although the pair seem excited for the latest addition, it remains to be seen if they can actually afford to have another kid. RadarOnline reported that the 90210 actress was sued by American Express last January for over $40,000 in unpaid bills and she was also was slapped with a tax lien back in July. And on top of that, the actress hasn't been in good health for a few months.
Even though, timing doesn't appear to be that great for a 5th child, Tori insists that "This baby happened at the best time. Nothing is ever perfect, but I'm so madly in love with my husband and with our kids. The idea of adding to that is such a blessing."