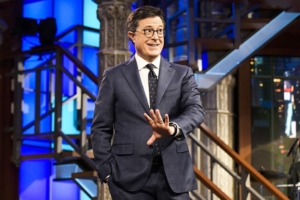 Stephen Colbert has ruffled some feathers this week. Stephen Colbert responded to #FireColbert backlash over a crude oral-sex joke he made about President Donal Trump and Vladimir Putin on Monday, May 1. Trump supporters and others thought the comment was inappropriate and called for the comedian to be dropped from the CBS show. Social Media did not take kindly to Colbert's comment on the President of the United States. He got roasted.
The TV host, 52, opened his Wednesday, May 3, episode by addressing the controversy. "Welcome to The Late Show," he said. "I'm your host, Stephen Colbert. Still? I am still the host? I'm still the host!"
Colbert went on to explain that his scathing monologue was inspired by Trump abruptly ending an Oval Office interview with fellow CBS correspondent John Dickerson. "Now, if you saw my monologue Monday, you know that I was a little upset at Donald Trump for insulting a friend of mine," he said. "So at the end of that monologue, I had a few choice insults for the president in return. I don't regret that. He, I believe, can take care of himself. I have jokes; he has the launch codes. So, it's a fair fight."  On Monday evening, Colbert riffed on the fact that Trump abruptly ended an interview with CBS News political director John Dickerson after the journalist asked about Trump's disputed wiretapping claims against former President Barack Obama.
"Mr. Trump, your presidency, I love your presidency; I call it 'Disgrace the Nation,'" Colbert, who calls Dickerson a friend, said Monday. "The only thing your mouth is good for is being Vladimir Putin's c—holster." The joke was met with backlash from Trump supporters and conservatives, and the #FireColbert hashtag started trending on Twitter. "Life is short, and anyone who expresses their love for another person in their own way is, to me, an American hero," Colbert said Wednesday. We can always count on Colbert to push the limits and ruffle so feathers. Just like those who don't like Donald Trump have to deal with what he says, those who don't like Colbert can also deal.