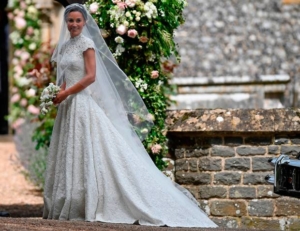 Sound the Wedding Bells! Pippa Middleton is officially married and she was an absolutely stunning bride! She is still the world's most famous bridesmaid, but this round she stole the show as the bride.The couple tied the knot at St Mark's church in Englefield, Berkshire, located a few miles away from the Middleton family home.
Pippa captured the world's attention when she wore a white Alexander McQueen dress as her sister's bridesmaid. When it was her turn to walk down the aisle, she was wearing a custom Giles Deacon gown. The cream-colored lace dress which is drawing comparisons to her sister's famous wedding look, features an a-line shape, high neck, and cap sleeves. Pippa paired the gown with a sparkly headpiece and a simple veil. As with every royal wedding, I'm sure we will start to see this dress in various styles and versions over the next fashion seasons, just as we saw with Princess Kate. Keep an eye out for the following trends:  high-neck lace dresses, glass marquees and vintage motors
The Duchess of Cambridge's younger sister and the 40-year-old millionaire announced the good news last year on July 19, after just a year of dating. After their engagement, Pippa's family members quickly expressed their approval for Matthews, as well as their happiness. The Duke and Duchess of Cambridge issued a statement saying they were "absolutely delighted with the news." Pippa and Kate's father, Michael Middleton, said, "They make a wonderful couple, and we wish them every happiness together."
The wedding was very traditional and followed strict guidelines for guests. Pippa implemented a "no ring, no bring" policy, meaning that guests could only bring their partners to the church if they were either married or engaged. It was said to be a beautiful and intimate gathering of close family and friends in the countryside. Cheers to the beautiful couple!