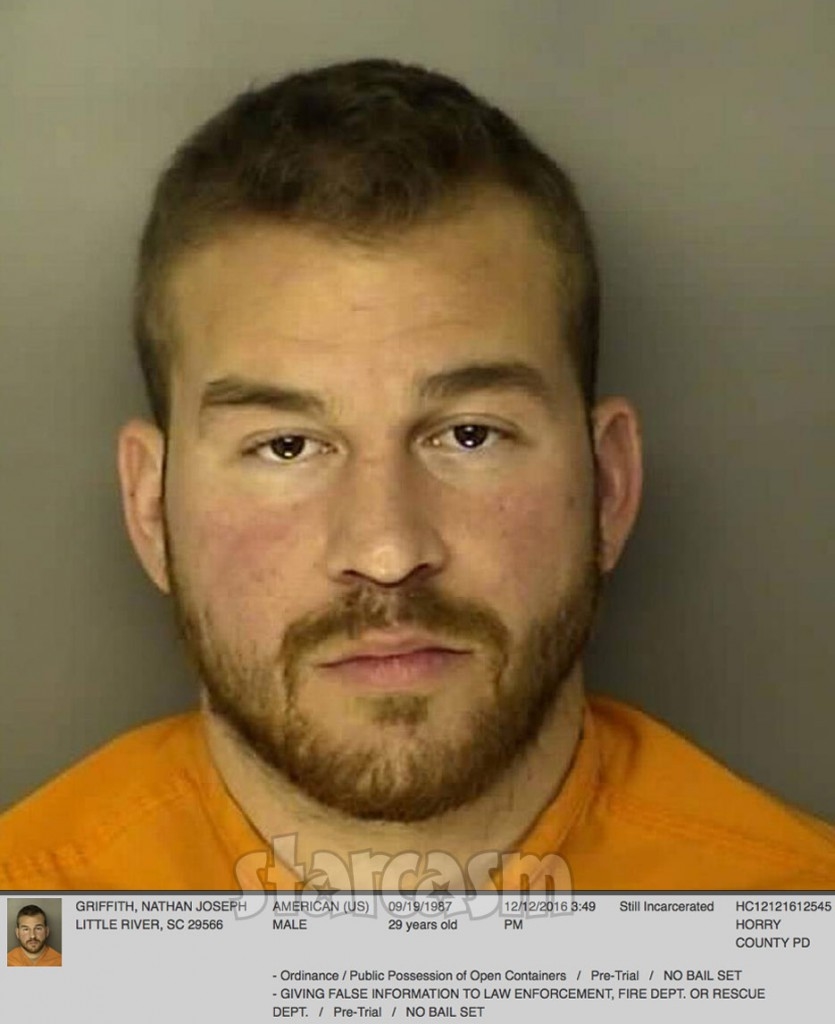 Add another mugshot to the collection, Nathan Griffith from Teen Mom 2 has another one to add to his ever growing list. It's a shock that him and Janelle didn't work out because they have a lot in common when it comes to their constant legal battles.
This time, Nathan was arrested for choking his ex-girlfriend. He was transferred to the MyrtleBeach jail where he will stay until he faces a judge this week about his pending domestic violence charges against Jessica Henry. A warrant was issued for Nathan's arrest last Monday after he allegedly choked her during a very heated argument. You can read the police report on Starcasm.com.
Nathan was later picked up by police after he was found in possession of alcohol while in a vehicle and then lied to officers about his identity. Myrtle Beach Online reported that, "Officers said they found two opened mini bottles of vodka and a large opened bottle of vodka inside. Griffith was then arrested in connection with open container of alcohol inside a vehicle. Police said they verified Griffith was deceiving them about who he was by giving a false name to elude arrest, and he was also charged with giving false information to police, the report states."
According to online records, Nathan faces a 2nd degree domestic violence charge. This isn't his first time with domestic violence charges so although this is a misdemeanor, he could be facing some real time.
Currently, he is battling for custody of his son, Kaiser, with his ex Jenelle. Jenelle has been determined to keep their son away from Nathan. She says she is worried because of his violent past. She isn't wrong about that. Nathan seems to have a knack for getting arrested.
We doubt that he will actually face any real time. Some of these Teen Mom folks seem to get away with a lot of bad behavior.