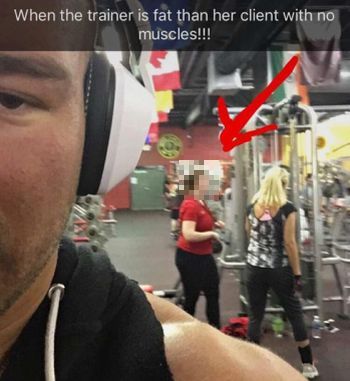 In news that doesn't surprise anyone, Teen Mom 2 dad Nathan Griffith has been banned from his happy place, Gold's Gym, because he sent out a Snapchat to his fans that cruelly fat-shamed a trainer at the gym. Immediately after he snapped the photo and posted it, fans were fast to call him out on his behavior and were quick to contact the local gym where he works out. The fans called for quick justice for Nathan's bullying behavior.
Nathan is no stranger to bad press. Every year he seems to have a new mugshot or to be in trouble with the law. He has been arrested numerous times for domestic violence and even for a DUI. This man is the epitome of bad decisions. His latest appalling mistake is par for the course for Nathan. Last week during one of his workouts, Nathan took a photo of a Gold Gym's trainer as she was working with a client. He then posted that photo to Snapchat with the caption, "When the trainer is fat than her client with no muscles."
Obviously grammar is not Nathan's speciality but apparently bullying is. Fans noticed the snap immediately and took the to the internet to find the local Gold's Gym that Nathan attends and flooded the gym's Twitter page with comments and concerns about Nathan's post. Gold's Gym originally tweeted out that they are aware of the incident and are investigating it. Soon the gym issued a statement and they also agreed that this incident was appalling. "We have a zero-tolerance policy for this behavior. This person's membership has been terminated," the gym tweeted out. Fans applauded the move and commended Gold's Gym on standing up to a bully.
Nathan has yet to comment, but this will most likely greatly upset him. During a particularly memorable episode, Nathan and Jenelle got into an argument and Nathan stated that gym time is his "me time" so no doubt this banishment will upset him. Kudos to Gold's Gym for standing up to Nathan. This guy has a known history of bullying people and even though he keeps getting arrested, he doesn't seem to face any real consequences. We hope that he gets banned from all the gyms.