Well James Franco has become the latest man to be accused of sexual harassment and there are now 5 women total that have come forward with allegations about Franco's lewd behavior. Each of the female accusers attended Franco's acting school, Studio 4. The women's stories have been collaborated by multiple sources but Franco denies the women's allegations.
The first allegations came out on Twitter after Franco won Best Actor for his portrayal of Tommy Wiseau in the The Disaster Artist. As the actor came up to accept his speech, eagle-eyed viewers noticed that Franco was wearing a Time's Up pin in solidarity of the movement to help end sexual harassment and assault in Hollywood. For some women, this caused some anger. Sarah Tither-Kaplan was one of those women.
Tither-Kaplan was a student of Franco's at the acting school and is one of the 5 women who are accusing Franco of sexual harassment. She took to her Twitter account and blasted out tweets that expressed her disgust with Franco.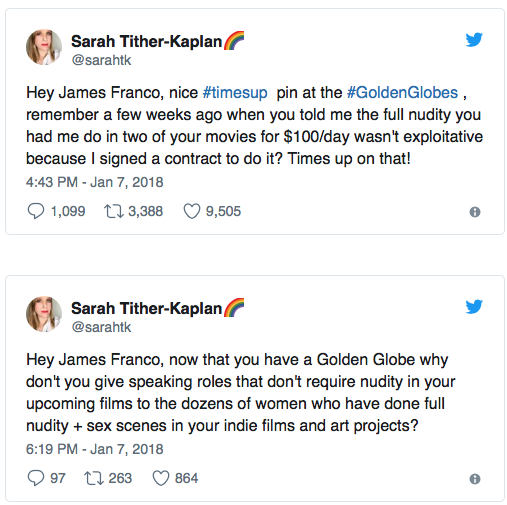 Tither-Kaplan then did an interview with The LA Times where she elaborated her claims. She told the publication that, "I feel there was an abuse of power, and there was a culture of exploiting non-celebrity women, and a culture of women being replaceable." She said that there was a particular incident that really upset her among other women at the acting school. She recounted a time where she was filming an on-screenorgy scene with both Franco and other women. She said that he removed protective plastic guards covering other actresses' vaginas while simulating oral sex on them. The experience scarred Tither-Kaplan.
A second woman, Violet Paley, also used her Twitter account to express her disgust with Franco wearing the Time's Up pin. She tweeted, "Cute #TIMESUP pin James Franco. Remember the time you pushed my head down in a car towards your exposed penis & that other time you told my friend to come to your hotel when she was 17? After you had already been caught doing that to a different 17 year old?"
Paley said told The LA Times that she and Franco has a consensual relationship but that there was a particular incident that happened that made her very uncomfortable. She said, "I was talking to him, all of a sudden his penis was out. I got really nervous, and I said, 'Can we do this later?' He was kind of nudging my head down, and I just didn't want him to hate me, so I did it." She then got out of the situation by telling Franco that she saw someone watching from another car.
Franco's attorney, Michael Plonsker, has disputed the women's claims. Franco appeared on the Late Night with Seth Meyers and when asked about the tweets he said, "The [tweets] I read were not accurate. But one of the things I've learned is that this is a conversation that obviously needs to be had. There are people, women and others, who have not been a part of this conversation. And I truly believe they need to be part of this conversation. So that's why I was wearing the pin and I support that."