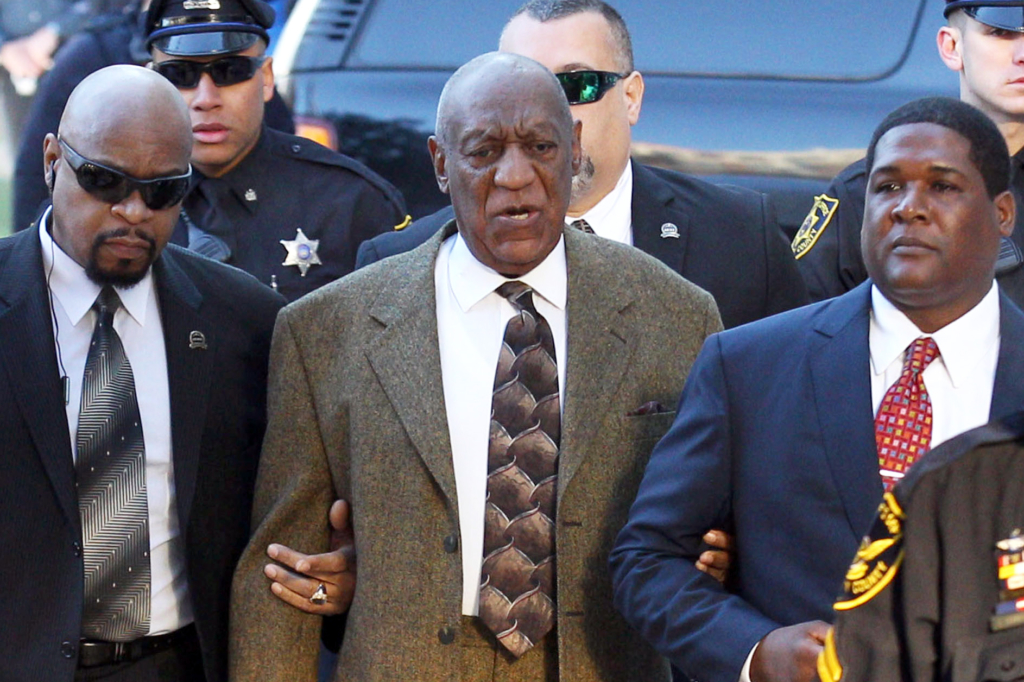 Camille Cosby is now speaking out about her husband's guilty verdict. She released a statement to the media that makes very disparaging comments against the Montgomery County District Attorney Kevin Steele, her husband's chief accuser Andrea Constand, the media, and the jury. Her scathing statement, released today, has raised a lot of eyebrows and people are not happy with Camille at all.
Her husband, disgraced actor Bill Cosby, was found guilty on three counts of aggravated indecent assault for Cosby's January 2004 sexual assault of Andrea Constand. The jury, consisting of seven men and five women, spent two days to decide Cosby's fate. He is allowed to stay free on bail until sentencing. The judge did not announce a date for the sentencing but the law requires that it be done within 100 days of the conviction. Cosby, is facing up to 30 years in prison.
After the verdict, Cosby's lead defense attorney, Tom Mesereau, told the press outside the courthouse and the fight is not over. When asked by a reporter if they plan on appealing, he said, "We are very disappointed by the verdict. We don't think Mr. Cosby is guilty of anything, and the fight is not over."
Camille stood by her man the entire trial. She stayed away from the trial itself but she was verbally supporting him in the media. She was there for the defense's closing arguments. After the verdict, she put her arm around her husband and then left when it was the prosecutor's turn to argue, she left.
Camille Cosby's statement is quite lengthy but there are few real gems in the midst of her victim blaming nonsense. She starts her rambling statement talking about how the constitution was were powerful men and it doesn't include any input from women, Native Americans, poor white meant and absolutely no enslaved Africans.
She then launches into claiming that Bill Cosby was demonized in the media and labeled guilty before the trial even started. She said, "The overall media, with their frenzied, relentless demonization of him and unquestioning acceptance of accusers' allegations without any attendant proof, have superseded the Fifth and Fourteenth Amendments, which guarantee due process and equal protection, and thereby eliminated the possibility of a fair trial and unbiased jury."
She then compares her husband's trial to those trials of Emmett Till and Darryl Hunt. Till was a 14 year African American boy who was falsely accused of sexually assaulting a white woman. He was adducted by the family of the woman that accused him of sexual assault and was brutally and tragically murdered. Decades later, his accuser admitted she fabricated the story. In the case of Darryl Hunt, he was arrested and charged at 19 years old of a sexual assault but was later exonerated based on DNA evidence that cleared him of the crime. Camille believes that Cosby is being unfairly treated just like these two men. She says that the justice system fails to protect African Americans who have been falsely accused.
Her biggest beef however was with the Montgomery County Courthouse. She says, "The worst injustices, however, have been carried out in the Pennsylvania Montgomery County Courthouse. Three criminal charges, promised during an unethical campaign for the district attorney's office, were filed against my husband…all based on what I believe to be a falsified account by the newly elected district attorney's key witness."
She then calls for a criminal investigation into district attorney and his "cohorts".  She believes that these people plotted to get her husband behind bars because they wanted to advance their political careers. She calls it an abuse of power and calls the prosecution, the witnesses and the judge "vicious, lying, self-absorbed paradigms of evilness."
Constand's lawyer Dolores Troiani had only two comments about Camille's rant. She said, "why would any reputable outlet publish that? Twelve honorable jurors – peers of Cosby – have spoken," Troiani said. "There is nothing else that needs to be said."