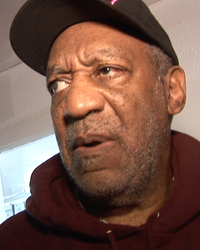 Today marked day one of the Bill Cosby trial and opening statements began with a bang. Cosby was at the courthouse bright and earlier. The 79-year-old comedian walked alongside his spokesperson, Andrew Wyatt on the right, and his former TV daughter Keshia Knight Pulliam, 38 and quickly walked into the courthouse trying to avoid to the media. His wife, Camille, did not come with him. She in the past publicly said that her husband is innocent but decided not to support him on the first day of the trial.
Cosby seemed to be at ease walking into court. He walked into the court with a wooden cane but he appeared to be in good health. He was seen chatting and smiling with his legal team. He also laughed and clapped them on their backs before taking his seat at the front of Montgomery County Court, Norristown. Someone from the media then asked him how he felt and he just smiled.
Even though Cosby has declined to testify, Assistant District Attorney Kristen Feden, feels like she already has enough of Cosby's own words from his deposition in 2005 and from police reports when he was first investigated to prove that he did sexually assault Andrea Constand. She gave the first opening statement in the trial today and she said that, "Trust, betrayal and the inability to consent. That is what this case is about."
In Mr. Cosby's lawyer, Brian McMonagle's opening statement he attacked Constand's credibility, pointing out that a former district attorney in the same county had decided against bringing charges against Cosby in 2005 the first time he was accused. Mr. McMonagle said there are numerous inconsistencies in her statements to the police about the timing of events, about numerous meetings with him before the incident, and about her continued contact with him afterward, including a trip with her parents to see him perform at a resort outside Toronto. He also brought up the fact that after the alleged incident, Constand called Cosby numerous times. Phone records show that she called him about 53 times after the incident.
This trial is about a decade in the making and saw one of America's most beloved TV dad fall from grace. Cosby met Constand in November 2002 when he attended a basketball game at Temple. Constand, who had been a high school basketball star in Canada, was the director of operations for the Temple women's team at the time. Twelve years ago, Constand went to police to report that Cosby sexually assaulted her. Cosby is charged with three counts of aggravated indecent assault for the night in January 2004 Cosby allegedly drugged her and then sexually assaulted her.