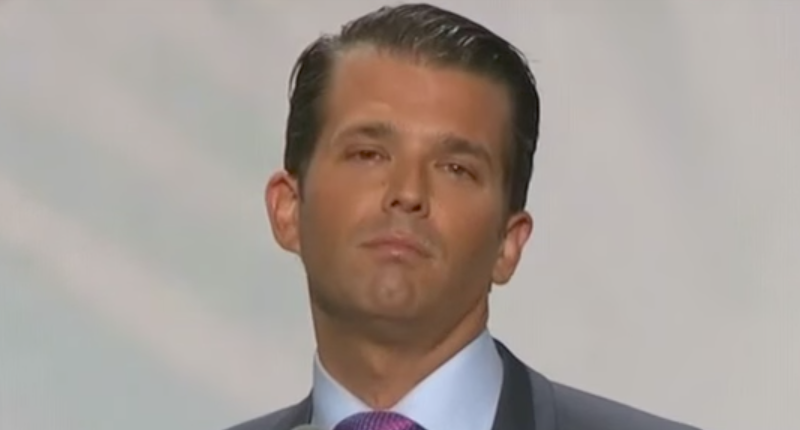 The ring is off. Vanessa Trump has filed for divorce from Donald Jr. and she has a very high powered attorney handing her case. David Feureisen of the firm Bartels & Feureisen was hired by Vanessa to help handle her divorce. Feureisen is a very well known criminal defense attorney that has a reputation for fighting hard. So far, it has not been made public who will be representing Don. Jr.
The couple had been married for 12 years and has 5 children together. The news was announced earlier this week and it came as a surprise to fellow Trump supporters. Vanessa filed the paperwork this last Thursday and she currently is not seeking full custody of the children. Don Jr. is not objecting to the filing. She also filed the divorce as uncontested. She was then seen this morning not wearing her wedding ring.
The split was first acknowledged by Don Jr. on his Instagram page this Thursday. He posted a picture with one of his daughters, Chloe, with the caption, "No matter what is going on bedtime cuddling with the smurf puts a Yuge smile on my face. #bedtime#daddysgirl #cuddle."
The ex-couple released a joint statement. The statement said, "After 12 years of marriage, we have decided to go our separate ways.We will always have tremendous respect for each other and our families. We have five beautiful children together and they remain our top priority. We ask for your privacy during this time."
The rumor going around is that Vanessa had some issues with Don Jr.'s controversial use of his social media. He has been making headlines recently by liking tweets which made false statements about the victims of the Parkland shooting, including one that suggested there was a link between anti-depressants and kids who go on mass shooting sprees. The tweets caught the attention of the media and Don Jr. was blasted for spreading hate and misinformation.
There has been another report by Page Six says that couple has actually been separating for a long time now and only have decided to recently make it official. Sources that spoke to Page Six said that the couple had been having issues for a long time. The sources also stated that since his father became president, Don Jr. has been traveling a lot for work and that put huge strain on their marriage. The sources also told Page Six that friends and family are concerned about him because he behavior has changed over the last two years.
We can't say that we are sorry to this couple break up. Don Jr. seems like a real piece of work and we hope that Vanessa is able to escape that circus unscathed.