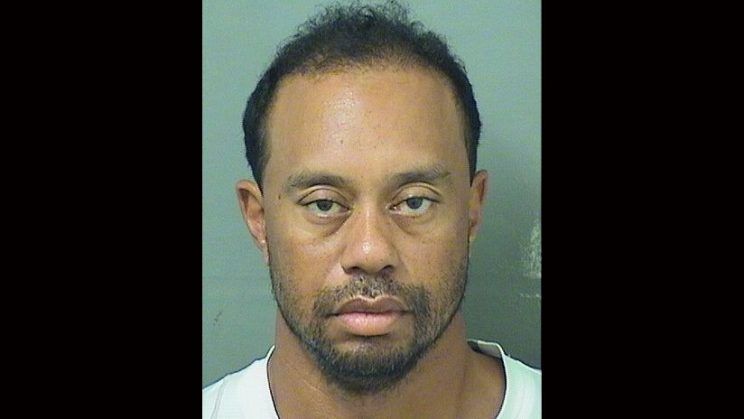 While most people were safely enjoying the holiday weekend, Tiger Woods had a really rough weekend. Woods was arrested on 5/29 in the early morning hours on suspicion of driving under the influence and illegally parking his car. Tiger Woods was asleep in his Mercedes-Benz when police came upon Woods in his car on the side of the road. He told the Palm Beach County Sheriff's officer that he had been coming back from playing golf in Los Angeles.
TMZ obtained the police report and details about the 14 time major champion was observed asleep at the wheel of his 2015 Mercedes with the motor running and the right blinker light flashing. Woods foot was also on the brake. An officer then woke Woods up and he appeared to be very disoriented and his speech was slurred. Woods told the officer that he was coming back from "coming from L.A. California from golfing" but that he was unclear exactly where he was. He then changed his story and admitted that he didn't know where he was. Woods asked the officer how far he was from his Hobe Sound, Florida, home and he also admitted he was taking several prescription medications, including Vicodin.
Woods preformed all the field sobriety tests and he failed every single one of them. He was unable to complete the one-leg stand or the nose touch. The report says when asked if he understood the Romberg alphabet test, he stated, "yes, recite entire national anthem backwards."
According to the report, there were four different types of drugs listed under medical conditions. The drugs included Solarex, Vicodin, Torix and Vioxx. It notes Vioxx was not taken this year. It says Tiger has has 4 left knee surgeries and  four Achilles surgeries.
He was then arrested and taken to a testing facility. A second officer's report stated that Woods was given a breathalyzer test and he did blow a 0.00 and that he complied with the requested urine test.
Late last night, Woods issued an apology to his fans regarding his arrest. Woods stated that alcohol was not involved, and that his condition resulted from "an unexpected reaction to prescribed medications."