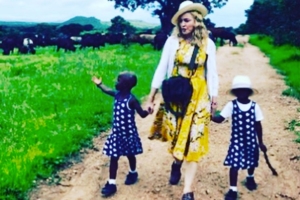 Madonna has opened her heart—and her home—to a set of twins, two girls, Esther and Stella.
"I can officially confirm I have completed the process of adopting twin sisters from Malawi and am overjoyed that they are now part of our family," the Material Girl, 58, told her 8.7 million Instagram followers Wednesday. "I am deeply grateful to all those in Malawi who helped make this possible, and I ask the media please to respect our privacy during this transitional time. Thank you also to my friends, family and my very large team for all your support and love!" This information was posted on her Instagram accompanying the picture above with Madonna walking hand in hand with the girls.
A court in Lilongwe granted Madonna permission to adopt the 4-year-old twins, whose mother died in childbirth and whose father appeared in court during the proceedings. Judge Fiona Mwale said Madonna can provide a loving home for the girls in a "luxurious, spacious and comfortable abode in an affluent neighborhood" in the U.S. And though she is "above the age normally considered within the ranges of parenting," Mwale said, Madonna is in good health. "Her charity work brings her into contact with orphanages," she added. "And it was as a result of this contact that she felt compelled to fill a gap in their lives and open up her home to them."
Madonna previously adopted two other children from Malawi: David Banda, 11, and Mercy James, 11. She is also mom to Rocco Ritchie, her 16-year-old son with filmmaker Guy Ritchie.Madonna has deep roots in Malawi. Much of her charitable work is focused in the country, and she is currently working on a project to expand children's wings in certain Hospitals. She established the non-profit Raising Malawi in 2006 to provide health and education programs, particularly for girls. We are excited for Madonna and her family.