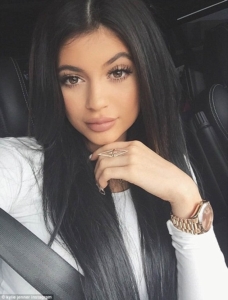 Kylie Jenner is being offered her own show as a spin-off of KUWTK (Keeping Up With the Kardashians). Jenner is no newbie to reality TV, as she and her family have been viewed by the public since she was 9-years-old. As Kyle has blossomed into adulthood under the public eye, she has been subject to scrutiny and critique. From her bold looks, nail art, lips, or boyfriends, Kylie has a way of keeping fans entertained, 's no wonder that she is getting her own show–people are interested in her lifestyle.
According to E!, the eight-episode series will document her entrepreneurial endeavors as well as her downtime spent with her BFF Jordyn Woods. For her part, Jenner is ready to show viewers how much she's grown since making her television debut on KUWTK in 2007 and she's thrilled to invite fans into her inner circle.
If you can give this family credit where credit is due, they know how to brand and make business deals that land them a pretty good financial situation. Mama Kris Jenner is no fool. She knows exactly what she is doing. And for better or worse, it's working.
E! announced Monday that it will premiere Life of Kylie, an eight-part, half-hour docuseries, later this summer. In addition to starring in the show, the 19-year-old queen of the cosmetics industry will also wear an executive producer hat along with Ryan Seacrest and Kris Jenner. Her show will give her millions of social media followers a behind the scenes look at how she expands her empire.
"The last couple years have been such an incredible journey with the support of my fans," Kylie said in a press release from the network. "This show will allow me to give them a peek inside all of the exciting things I am working on as well as some personal time with friends." Maybe the news of this new show will distract people from Kendall Jenner's Pepsi advertisement.
Life of Kylie, which will premiere later this summer on E!, joins the family of other KUWTK spinoffs including Khloé & Lamar, Rob & Chyna, Kourtney & Khloé Take Miami and Kourtney & Kim Take New York. Keeping Up With Kardashians will never end it seems.