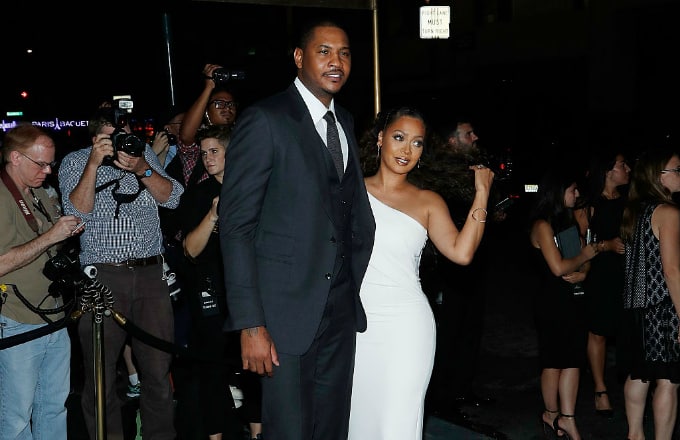 In sad celebrity divorce news, this one comes as kind of a shock. After seven years of marriage, NBA star Carmelo Anthony and wife La La have called it quits after 7 years of marriage. The separation comes after a rumor started to make its way to the public that the reason behind the split is that Carmelo got another women pregnant. The basketball star is alleged to have slept with a stripper who works at a gentlemen's club in New York.
TMZ broke the news that Carmelo knocked up another women who is now 6.5 months pregnant. TMZ also heard from multiple sources close to woman say that she believes that Carmelo is going to be paying for all medical expenses and any other baby related costs. There have been rumors that the marriage has been on the rocks for a long time and this pregnancy is certainly not the straw that broke the camels back but it is just another reason why this marriage was doomed.
There are no divorce papers filed yet but the couple has been living separately. La La moved out of the family home and has been living in New York. The couple has a 10 year old son named Kiyan. They have both acknowledge that their marriage has had its ups and downs. La La told Access Hollywood last year that, "If anyone says in 10 years you don't go through ups and downs, they're lying to you. We're in a real relationship. We have our ups and we have our downs, but we definitely work through them, and we're great right now."
The original story behind the split had to do with the possibility of Carmelo being traded by the New York Knicks. It was reported that Carmelo was stressed out about a potential trade and it put a huge strain on their marriage and it seems now that most likely its because he got another girl pregnant.