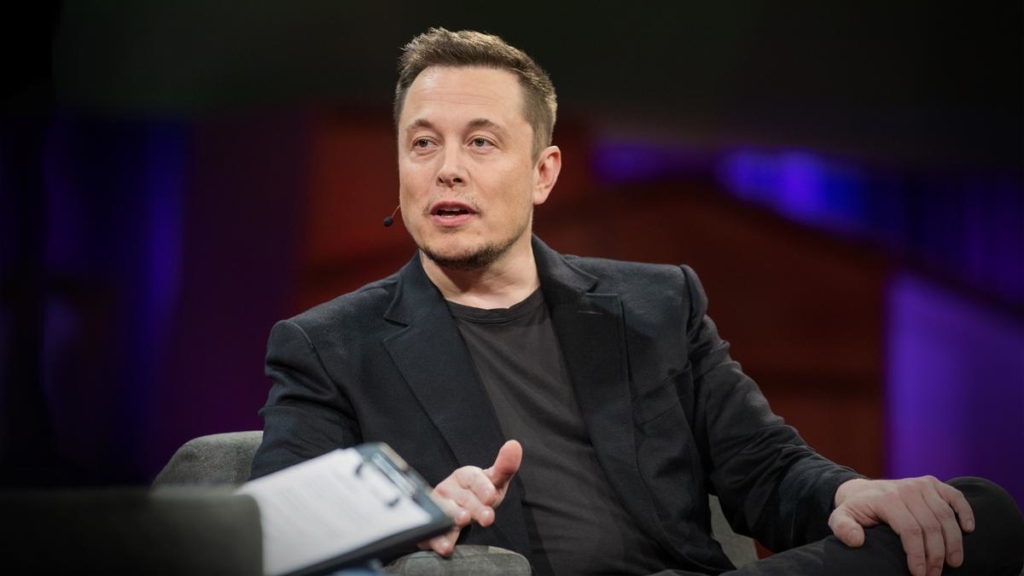 Elon Musk very abruptly deleted the social media profiles for both Tesla and SpaceX this last Friday. The move did come as a surprise to Musk fans but since the whole Facebook/Cambridge Analytica scandal, Musk decided that is was best to delete the profiles all together to take stand against Facebook. Last week there was a huge outcry on social media to take a stand against Facebook. The hashtag #deletefacebook started to trend last week on Twitter and so far many have joined the movement to get rid of their Facebook pages. Musk decided to also join the movement by deleting both the SpaceX and Tesla Facebook pages. The SpaceX account had 3 million followers, and Tesla hd about 4 million.
This bold move came in the wake of the latest Facebook impropriety. It was discovered last week that the consulting firm, Cambridge Analytica, had wrongfully harvested personal data for over 50 million Facebook users.  The information wastes by the political consulting firm who was backing President Trump's 2016 election campaign. The information that was collected was then used to developed a software program that profiled the users to predict voting patterns. Through these predictions, they created micro-targeted ads that were designed to influence US citizens' voting decisions.
According to Techradar.com, Cambridge Analytica was able to gain access to the information through very underhanded means. According to the article, "Cambridge Analytica (CA) obtained voter data through a Facebook-linked app named 'thisisyourdigitallife'. Through the app, CA member Aleksandr Kogan paid Facebook users in exchange for a detailed personality test, supposedly for academic research purposes."
The #deletefacebook hashtag started with the cofounder of WhatsApp (that is also owned by Facebook). Brian Acton started the movement by tweeting, "It is time. #DeleteFacebook" and Musk responded with tweeting "What's Facebook?".
Another Twitter user called him out saying, "Delete SpaceX page on Facebook if you're the man?" and in typical Musk fashion, he responded with, "I didn't realize there was one. Will do."
Soon another tweet followed asking if Musk was going to also delete the Tesla Facebook and Musk responded with another cheeky answer saying, "Definitely. Looks lame anyway."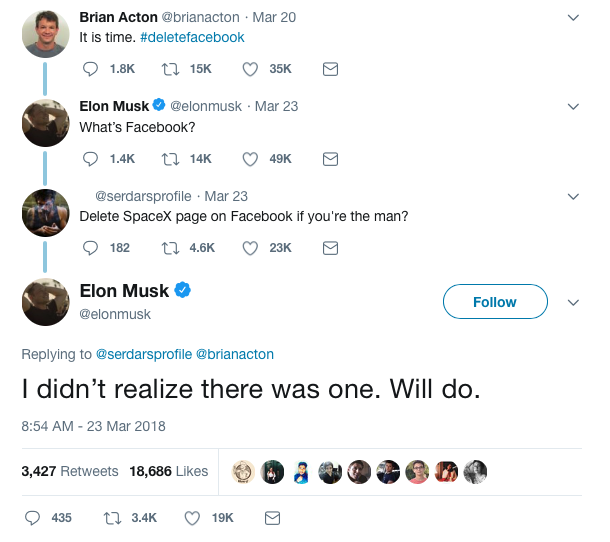 There has also been called for Musk to delete the Instagram accounts for both Tesla and SpaceX since Facebook owns Instagram but so far both those profiles are still up. Musk did acknowledge that Facebook's negative influence is creeping in but for now he has not made another public statements about getting rid of the Instagram profiles. For those still wanting to keep up with the company, both companies still have their Twitter, Youtube and Flickr accounts.
As the enigmatic SpaceX and Tesla CEO, Elon Musk, has been known to make some pretty unpredictable moves, but he usually follows his gut on what is best for his companies and his gut is usually right. But according to Musk, he doesn't even use Facebook anyways. In his last thoughts on the matter, he tweeted, "Instagram's probably ok imo, so long as it stays fairly independent. I don't use FB & never have, so don't think I'm some kind of martyr or my companies are taking a huge blow. Also, we don't advertise or pay for endorsements, so … don't care." and he then added, "We've never advertised with FB. None of my companies buy advertising or pay famous people to fake endorse. Product lives or dies on its own merits."
Make Zuckerberg has since made a public apology and did the standard public apology tour but it took a few days before the news broke before the Facebook founder stepped forward to offer any explanation as to why this breach of trust even occurred in the first place. The fallout continues as sharp drop in share price erased close to $50 billion of the company's market cap. Now Zuckerberg has been asked to testify before congress to address the "breach of trust" that occurred.