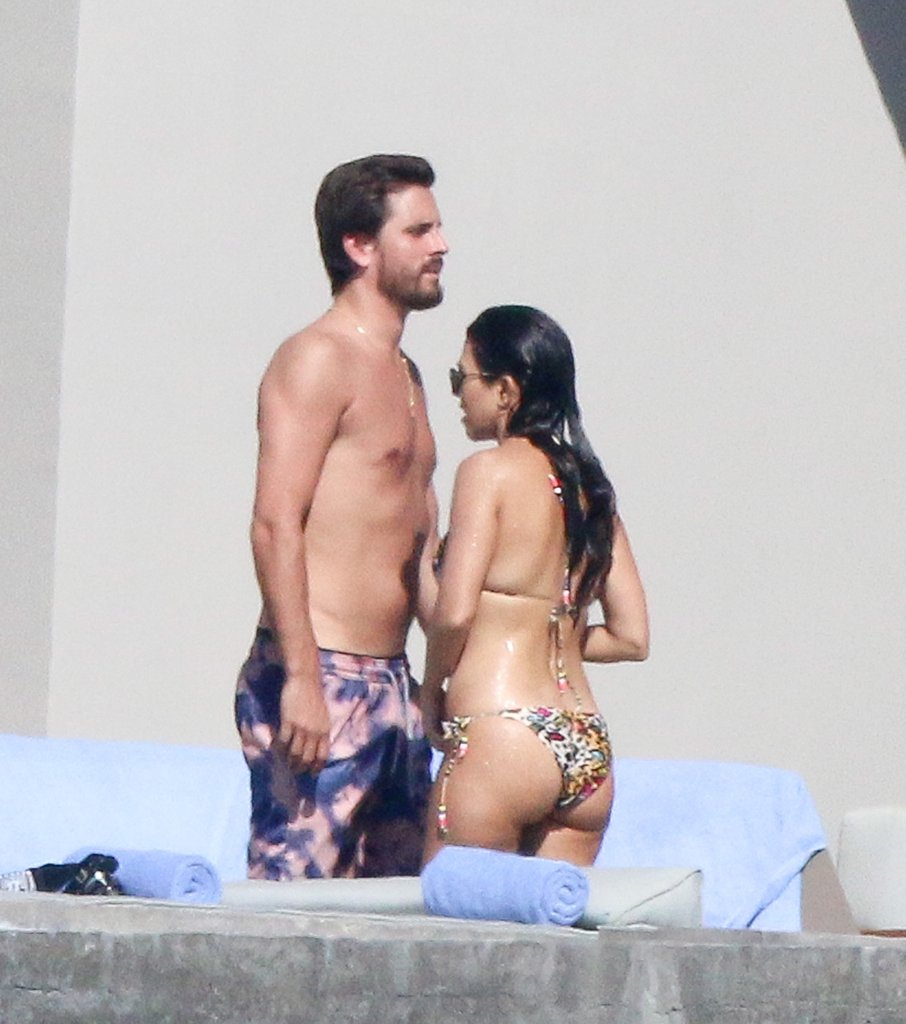 After recent pictures of the couple surfaced enjoying each other during a vacation to Mexico, it looks like they are back on again for the 152nd time this year. It's so hard to keep up with who is back with you and who is breaking up in this family. For obvious reasons, it pays to keep the rumor mill churning, and we are sure that momager Kris is working overtime to keep as much of her stable in the spotlight. With Kim out of commission after the Paris robbery, Kourtney and Khloe need to pick up the slack. Kourtney and Scott have been pretty quiet lately so looks like it is time to get back into the tabloids.
People Magazine is the source reporting on the latest rumor regarding their relationship. They reported that the couple was seen hanging out poolside in swimwear during their weekend getaway to Cabo San Lucas, Mexico. Kourtney and Scott  jetted to Mexico via JetLux and stayed at The Cape hotel with their children. People's source said that, "Scott set it all up and [it] was a way to try and make things work again with Kourtney. He surprised her and whisked her away on this trip."
The E! Network, which we are convinced is solely controlled by the Kardashians, also reported on the story. The article claims that Kourtney dumping Scott was the best thing that ever happened to their relationship. She broke up with last summer after being together on and off for the last 9 years. Scott's hard partying ways did start to taper off after the split and Lamar Odom's overdose prompted him to take a step further by admitting himself into rehab.
Now he is working very hard to get back with Kourtney. He has recently claimed during an episode of Keeping up with the Kardashian's that he was still reeling from the death of his parents, whom he lost within three months of each other between 2012 and 2013, and that he felt really alone. He has been struggling to be a dad and good husband and he acknowledged that he let them all down. He has been seen putting in a lot of time with the family at various events over the last 16 months. It appears to be working because Scott and Kourtney seemed really close on that Mexico vacation.