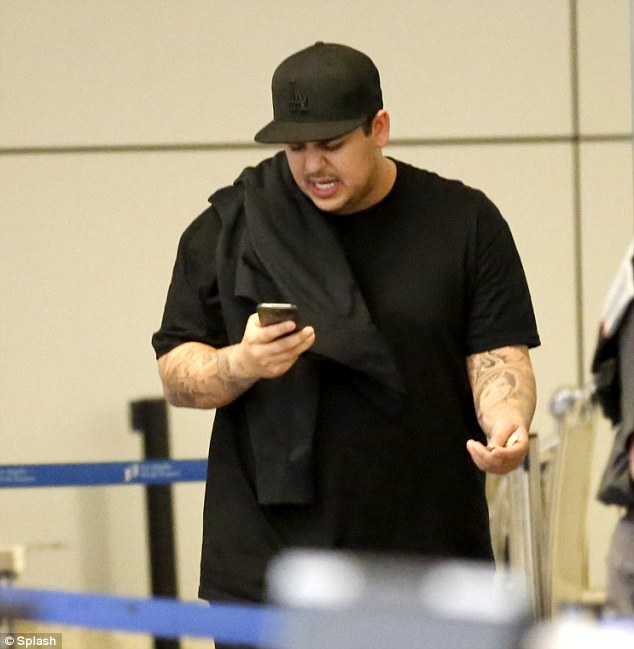 There is nothing worse than bringing a child into a dysfunctional relationship and Rob and Blac Chyna are they doing best to make sure that child is brought into a chaotic environment. The latest drama between the two has to do with threats that Rob made towards a friend of Blac's. The threats were so bad that the LAPD got involved and are now investigating Rob for allegedly threatening the friend with physical violence. 
Rob allegedly physically threatened Pilot Jones, who's been seen recently hanging out with Blac Chyna. TMZ reported that Rob threatened harm Pilot. The threats started because photos surfaced showing Blac and Pilot making out. It was found out that Pilot sold the pictures of him and Blac making out. According to sources, Rob was very upset about the photos and went off on Pilot threatening to physically harm him.
TMZ has also reported the content on the messages that Pilot gave to the LAPD and they are filled with disparaging references to gays, Mexicans and African-Americans. Here are the texts that TMZ was given:
–And u fa***t ass bitch this is ROB and u did the most DISRESPECTFUL s**t ever by releasing pics and a story to a pregnant Woman who is 17 days from having a baby!"
— "This is my Wife and you about to get your ass beat by every Mexican in LA including me."
— "U f***ed with the wrong Woman and the wrong dude."
— "I hope you religious cuz after I beat your ass with about 30 Mexicans u better hope God lets u into heaven."
— "Its a wrap for u and after we beat your ass we will all be good and never contact Chyna … u pu**y ass n***a."
— "Don't ever come for me and my wife ever U corny ass n***a" … and that's followed by a bunch of black fist emojis.
Although Rob doesn't come out of this looking like a good guy, Pilot also is a scum bag for selling the pics in the first place. It is thought that he sold the pictures and filed the criminal complaint in order to get some publicity for his music career. The LAPD continues to investigate but sources says that the case isn't a strong one.