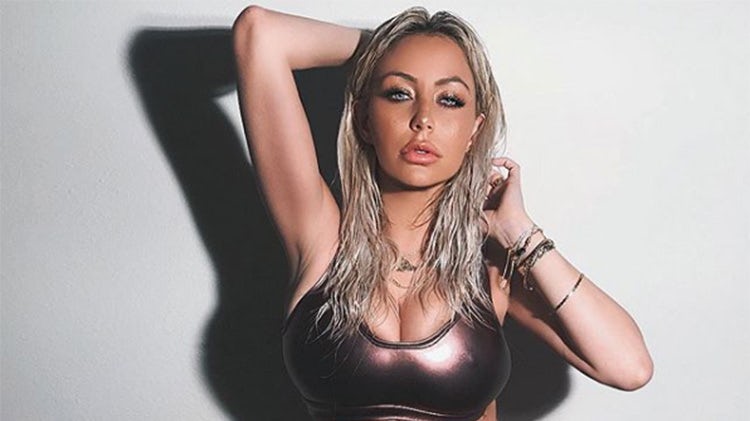 More details are coming to light about the divorce between Donald Trump, Jr. and his wife, Vanessa. Although it has yet to be confirmed, many media outlets are reporting an affair happened between Don Jr. and the singer, Aubrey O'Day. O'Day appeared on the fifth season of Celebrity Apprentice where she met Don Jr. and even admitted on the show that she had a crush on him. Even though there were never any public rumors about the two during that time, now a lot of information is coming to light that implicates the two had an affair.
During the show, the ex-Danity Kane singer even admitted that she had a crush on Don Jr. and at some point during an interview said, "Don Jr. makes me nervous, because his opinion means a lot. He's done this for a very long time. And also, I have a very big crush on him, so I don't want to disappoint him."
The revelation at the time in 2012 didn't mean a whole lot but now that Don Jr. is getting divorced, both that quote and many of O'Day's twitter posts are all pointing towards an affair. Sources are also confirming to media outlets that the affair was even found out my Vanessa who then called to confront O'Day about the affair. According to USWeekly, a source came forward and said that Vanessa found emails between her husband and O'Day. Vanessa decided to confront O'Day about the affair. She called O'Day with her children on the phone with the intent to shame and humiliate O'Day. Vanessa was pregnant at the time with her fourth child and was "crazy with jealousy" according to a source.
The affair began in 2011 and appeared to go through 2012. A source close to O'Day told USWeekly that the affair was very intense. The source said, "When it started, he and Aubrey were very serious all of a sudden. He told her it was over with his wife, that they were separated and he didn't love her — all of that stuff. Aubrey fell for him hard," adds the insider. "She thought they were going to be together for real."
There were clues on her social media that she was with someone that time but she never mentioned who it was. She posted some very cryptic tweets about being in love and taking trips with a loved one. When asked who she was referring to, she only gave a coy answer. She told media outlets that her boyfriend wished to remain anonymous.
Sources have also come forward to say that Don Jr. was going to leave his wife but his father stepped in and talked some sense into him. Don Jr. went back to his wife and O'Day went on to write a song titled, "DJT", which people now think the song written after the affair was called off. The song title also happens to be the initials of Donald John Trump, Jr. and the lyrics speak of a tumultuous relationship between two people.
Neither party has come forward to confirm the rumor but enough sources have come forward with information that seems to confirm the affair.