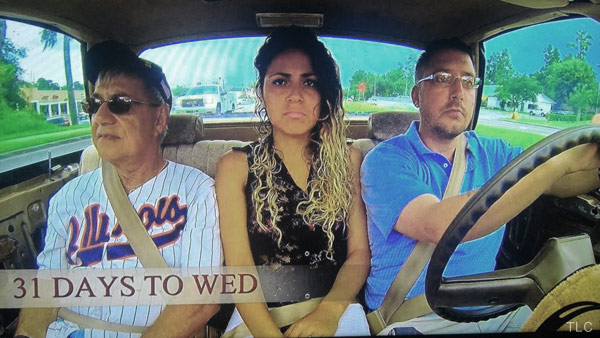 And we actually thought that this crazy couple was actually going to make it. But it turns out, Jason Hitch and his wife Cassia do not seem destined for a K-1 visa happily ever after. It was reported previously that this couple's relationship was on the rocks but it seems to have really exploded this last week. Jason was arrested on January 23 at the home he shares with Cassia for domestic battery.
Radar Online obtained the incident report from that night and it reports the details of how the night unfolded. In the report, Cassia goes by her first name Rita. The report states, ""Rita Hitch and her husband, Jason Hitch, began arguing over marital issues while lying in bed," the reporting officer wrote. "Jason then grabbed Rita by her left arm, leaving a mark and then pushed Rita off of the bed causing her to fall to the floor. Jason then began screaming at Rita to the point Rita was in fear and dialed 911 for law enforcement."
Jason then continued to yell at Cassia and then told her to sleep on the couch. He grabbed her arm so hard that it left a mark and the officer noted that Cassia had some redness above her elbow. When the officer asked Jason about his version of the events, Jason denied any knowledge of the mark on Cassia's arm. Jason told the officer that "nothing happened" and Cassia was being "rude and refused to sleep on the couch." The officer also said that, "I asked Jason if he pushed Rita off of the bed and Jason stated he moved the mattress, which caused Rita to fall off the bed," the report read. "Jason refused to fill out a sworn written statement with what he stated occurred."
Jason did an exclusive interview with Radar Online earlier this month that Cassia has moved out before Thanksgiving but that they were still married. He blamed the lack of communication and her tendency to spend a lot of money for the reason for the split. He said that the time they were visiting a therapist about once a week to help work through the issues. Looks like the therapist is going to have to put in overtime with this couple.
Jason was arrested for domestic battery and transported to Hernando County Jail that night and his court date is February 15 at 9am.