Mama June and her boyfriend, Geno Doak, were arrested outside a gas station in Alabama after deputies received a report alleging domestic violence. Mama June, real name June Shannon, a reality tv star who first gained fame from the show "Here Comes Honey Boo Boo" was headed home with her boyfriend after a night of gambling when officers got call that there was a domestic dispute outside a gas station in Macon County. It was reported that a man was threatening a women and when their arrived on scene, officers found Mama June sitting in the front passenger seat and Doak sitting in the back of the car.
Officers arrived at the scene and found the pair sitting in her vehicle. During the course of the investigation officers found drugs and drug paraphernalia, specifically crack cocaine and a crack pipe. When asked what it was, Mama June told them it was crack.  The sheriff said that Mama June was nice and funny and they stated that they had no issue with either one of them. They were taken into custody and then charged with possession of a controlled substance and possession of drug paraphernalia, and Doak was charged with domestic violence.
Mama June bonded out the same day as her arrest but they were required to hold Doak for 24 hours because of the domestic violence charge so he bonded out the next day. While in jail, the sheriff said that the two were acting very in love and joking with each other despite the argument that had occurred earlier in the evening.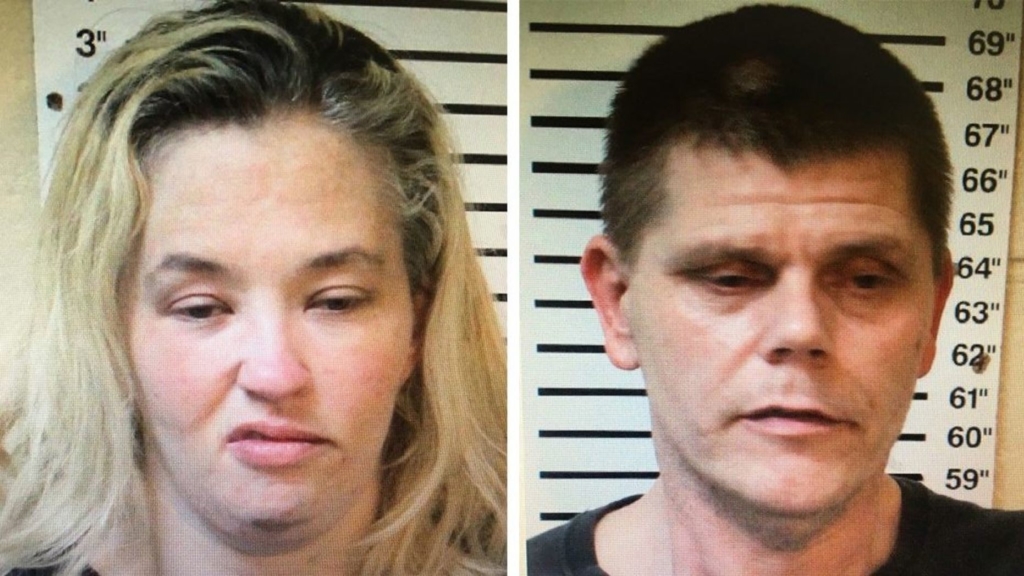 Since the arrest, the mugshots of the two have been released to the media, and oh boy is her mugshot is one for the books. Her photo shows the reality tv show mom smirking and not looking at the camera.
This isn't the first time that Mama June has been in the news for a scandal. In the middle of filming what would eventually be the last season of their show "Here Comes Honey Boo Boo", when the media reported that Mama June had rekindled a relationship with her ex Mark McDaniel. McDaniel was a convicted sex offender and Mama Jun'es daughter Anna, alleged that he had sexually abused her. This revelation led to the cancellation of the show.
Neither party has made a statement but Mama  June did use Twitter to tweet about about her current show, "From Hot to Not" on the WE tv channel. WE tv did issue a statement via Twitter that said, "We share our viewers' concerns for June Shannon and her entire family. We are monitoring events as they occur and are focused, as always, on the entire family's well-being." A preliminary hearing is scheduled on March 27th for Mama June.