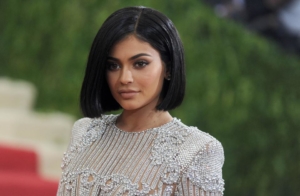 Kris Jenner's youngest keeps on conquering the world. On Monday, Forbes unveiled its ranking of The World's Highest-Paid Celebrities in 2017, and would ya look at that? Ms. Lip Kit herself has joined sister Kim Kardashian on the Celebrity 100. Kylie Jenner is now on Forbes' The World's Highest-Paid Celebrities list. According to Forbes, she is the 59th highest-paid famous person on the planet. Kylie is the youngest person to be included in this year's roundup. Forbes' Celebrity 100 is made up of musicians, actors, athletes, comedians, and personalities.
"Wow woke up the youngest entry on the @Forbes 100 list," the Keeping Up with the Kardashians star tweeted at 12:27 PM on Monday.
Her earnings come from her family's reality TV show Keeping Up with the Kardashians, as well as her cosmetics company and clothing line, plus various endorsements. Kylie wasn't the only member of her family on the list; older sister Kim came in at #47, with $45.5 million, making the two almost neck-and-neck. But they're still small change compared to the top earners. Coming in at #1 is the immortal Diddy, who earned $130 million last year. And at #2 is none other than Queen Bey, with earnings of $105 million.
Whatever your thoughts are on Kylie Jenner, she is definitely catching the attention of the media and her followers are loyal enough to buy her products. She has made quite a splash in the Reality TV world. Whether you're a fan or not of the Kardashian Empire, you have to admit that something is working for this team as the rake in the millions. Mother/Manager Kris is a business mastermind. I don't know if she tweeted that moment after she wiped the sleep off of her eyeballs, or if she posted that hour after she got out of bed. However, I sincerely hope she wrote that tweet right after she woke up. There is no better way to celebrate being a 19-year-old who's raked in $41 million than snoozing past noon. That is living the dream.