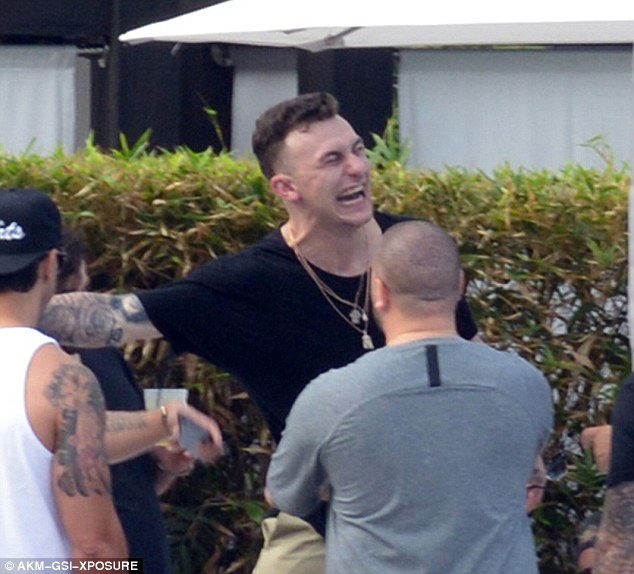 The downslide of Johnny Manziel just keeps going on and on and on. Johnny Manziel hasn't had a job for ten months now but that doesn't seem to be stopping him from throwing down some serious cash in the week leading up to his birthday. It is rumored that he has already spent up to $35,000 partying. The disgraced quarterback has had some considerable time on his hands since his separation from the Cleveland Browns and currently has no prospects in sight.
According to the Daily Mail, Manziel landed in Miami, Florida this last Thursday, hitting up clubs every night while parking himself at tables with $10,000 minimums. Sources say that he has already racked up a considerable bill ordering a lot of alcohol, some of which is priced at an whopping $3,250 a bottle. It's easy to see how he could easily have spent that $35k.
So far his partying in Miami has included visits to many of the city's trendy night clubs. Manziel was spotted at the luxurious Fontainebleau Miami Beach with several male friends on Monday. Sources said Manziel started the celebrations on Thursday at the LIV nightclub, where he ordered Armand de Brignac Champagne, a famed nightlife status symbol. He then reportedly spent $5,000 on the champagne. He then upped the ante the next two nights, appearing at the Rockwell nightclub where tables come with a $10,000 minimum. There he ordered a lot of bottles of champagne and the bill included magnums of the 'Ace of Spades' rose that costs $3,250 a bottle.
Manziel was once one of the most coveted quarterbacks in the league. The 2012 Heisman Trophy winner was drafted in 2014 with the Cleveland Browns and signed a four year contract worth $8.245 million, and kept $6.7 million despite being dropped just two years in due to his hard partying ways. He has been in trouble with law numerous times since being drafter in 2014 and is also currently being sued for attacking bar-back Eric Newton at a New York bar in September, according to a lawsuit filed on November 28 in Travis County, Texas. The alleged victim is requesting up to $1million in damages and a jury trial in the case.
It has become very clear that Manziel has a drinking problem. Even though he has tried rehab, nothing seems to work for him. We hope that he can find the help that he needs someday soon before this downward spiral causes him to seriously hurt himself or others.