Chris Pratt has been very outspoken lately about the love of his church and his religion. During a recent appearance on The Colbert Show, Pratt discussed his latest diet, called the Daniel Fast which is a bible-based diet that honestly sounded very extreme to us. Pratt talked at great length about the diet and how it is a 21 day fast and prayer session that pretty much just sounds a lot like starvation. He has been talking a lot about how important his religion and his church, Hillsong, has been to him and it caught the attention of another famous actor, Ellen Page.
Ellen Page is very outspoken about the mistreatment of the LGBTQ community. Once it became known that the church he attends is infamous for sending children to gay conversion therapy and for being very anti-LGBTQ, she tweeted asking Pratt to address the church's stance on LGBTQ individuals. When she was criticized for speaking out, she backed up her original question by saying, "If you are a famous actor and you belong to an organization that hates a certain group of people, don't be surprised if someone simply wonders why it's not addressed. Being anti LGBTQ is wrong, there aren't two sides. The damage it causes it severe. Full stop. Sending love to all. Conversion therapy and anti lgbtq rhetoric is extremely damaging. Children kill themselves. People suffer."
The mega church to the stars released a statement in 2o15 after an investigation into the church's support of gay conversion therapy, (which has been proven to be extremely damaging and absolutely does not work) saying that anyone is welcome to their church but that the "do not affirm a gay lifestyle and because of this we do not knowingly have actively gay people in positions of leadership."
Pratt took his Instagram to address Page's criticism of the church. He said in a lengthy post, "It has recently been suggested that I belong to a church which 'hates a certain group of people' and is 'infamously anti-LGBTQ.' Nothing could be further from the truth," he wrote. "I go to a church that opens their doors to absolutely everyone. Despite what the Bible says about divorce, my church community was there for me every stop of the way, never judging, just gracefully accompanying me on my walk. They helped me tremendously offering love and support. It is what I have seen them do for others on countless occasions regardless of sexual orientation, race or gender." He does go on to state that he is not a spokesperson but his comment sounds like it was generated by the Hillsong PR machine.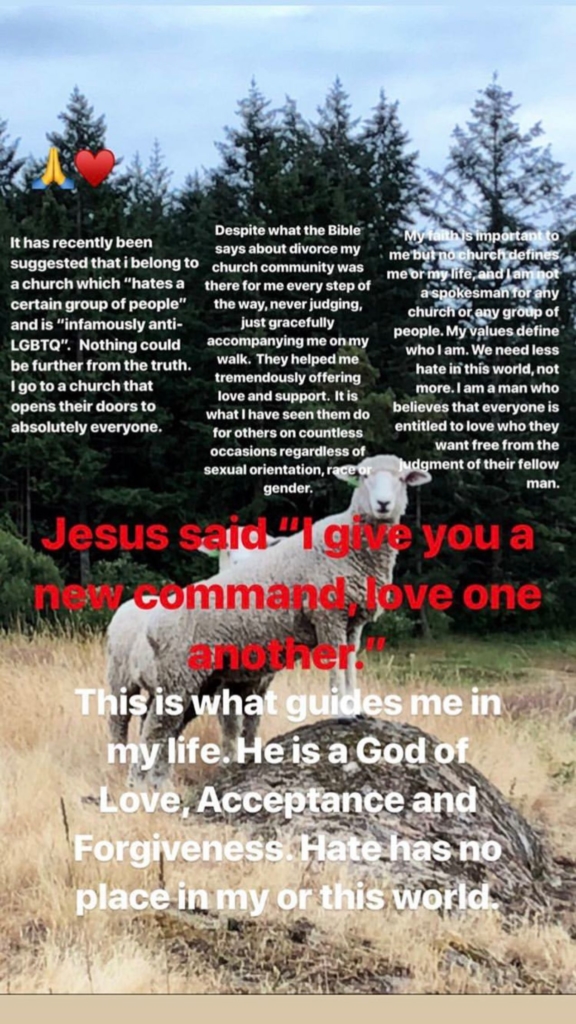 Hillsong is hugely popular among the stars. Celebs like Justin Bieber and his wife Hailey Baldwin attend services. The church tries to appeal to a younger crowd though pop music and concert lighting. It has a reputation for being the "hip" version of church. But for as hip as it is, it has been glossing over their true stance on the LGBTQ community and Pratt's post sounds more like PR hype than a genuine response.