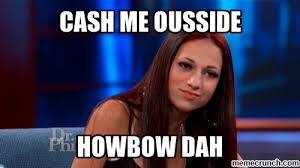 Unless you've been living under a rock, you have heard of, watched, or seen a meme about Danielle Bregoli, the unruly teenager who gained notoriety as the "Cash Me Outside" girl after an appearance on Dr. Phil last year.  Bregoli has signed a deal for a reality TV show. Here we go. The 14-year-old viral star inked a deal with a major TV production company for a loosely formatted series focusing on her daily life. Filming has yet to begin, but producers are reportedly shopping the concept around to TV networks and are confident the show will get picked up.
For those who don't know, Danielle became an overnight sensation after she appeared as a "car-stealing, knife-wielding, twerking" teen on Dr. Phil in December 2016. During the episode, she argued with audience members and dared them to "cash me outside, how bow dah?" (Translation: "Catch me outside, how about that?") Barbara Ann (her mother) explained to the talk show host that the phrase meant her daughter would "go outside and do what she has to do" and fight whoever gets in her path. She is going to become a linguistic phenomenon.
The clip from Danielle's episode has amassed more than 35 million views on YouTube. She has since made headlines several times for her rowdy and sometimes violent behavior. In my opinion, it is ridiculous that 14-year-old girl would have a reality TV show. In fact, I find it weird and someone creepy that people would watch it. She is one-of-a-kind, so I see the curiosity appeal, but I might lower my IQ and ability to speak properly if this played in my house. From her start of Dr. Phil to the past couple of months, Danielle has made headline after headline, yet fans can't seem to get enough of her. America's love affair with reality TV is a love affair I will never understand.