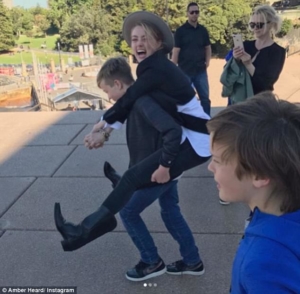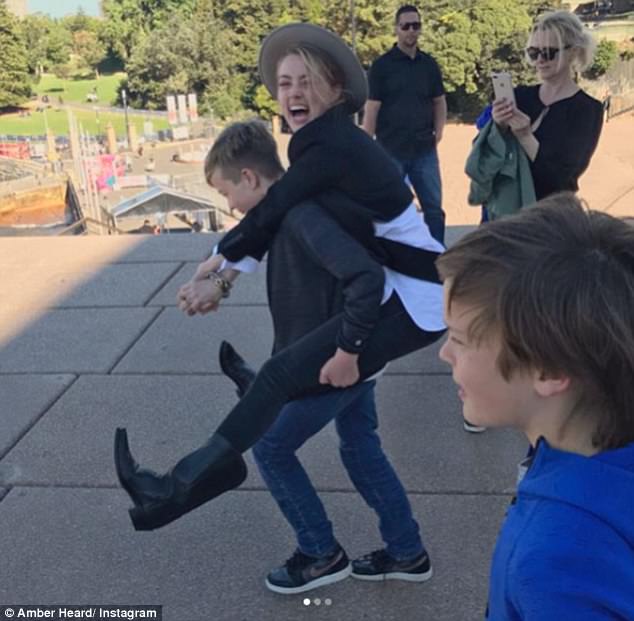 Amber Heard was spotted hanging out with the Musk boys and their Dad recently. The 31-year-old Aquaman actress shared some adorable snapshots on Tuesday at the Sydney Opera House in Australia with her billionaire boyfriend, Elon Musk, and his kids.
Heard, who is currently in Australia filming the upcoming movie Aquaman, posted a slideshow of the family to Instagram, along with the caption "Kidding around."
In another, three of the Tesla billionaire's children are tackling him to the ground. Musk, who has six children from his first marriage to Justine Musk, began dating Heard in July 2016. While there was speculation that they two were dating, Amber posted a cheeky picture of an Elon Musk with a kiss stained cheek as one of their first public displays of affection.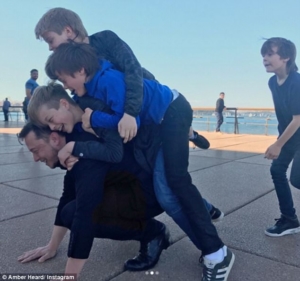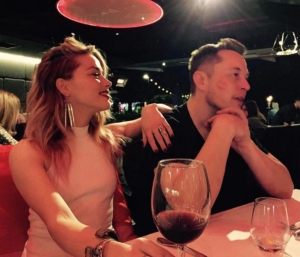 The Justice League star and the Tesla CEO have been officially dating since April, but rumors of their courtship surfaced as early as August 2016. In fact, emails between Musk and director Robert Rodriguez from 2013 show that Musk was interested in getting to know the actress while she was still dating Johnny Depp in 2013.
"If there is a party or event with Amber, I'd be interested in meeting her just out of curiosity," he wrote, according to emails obtained by The Hollywood Reporter. "Allegedly, she is a fan of George Orwell and Ayn Rand…most unusual."
Musk must be pretty fond of
Amber
if he visited her on set and brought his boys along to visit her. And it's not like Amber is shooting in LA, she is shooting in a different country. Musk must be pretty smitten with Amber as he posted pictures of her on his Instagram to promote her upcoming movie. It looks like a things are heating up between this power couple. When you introduce kids to your SO, that normally means it's more than just a fling!