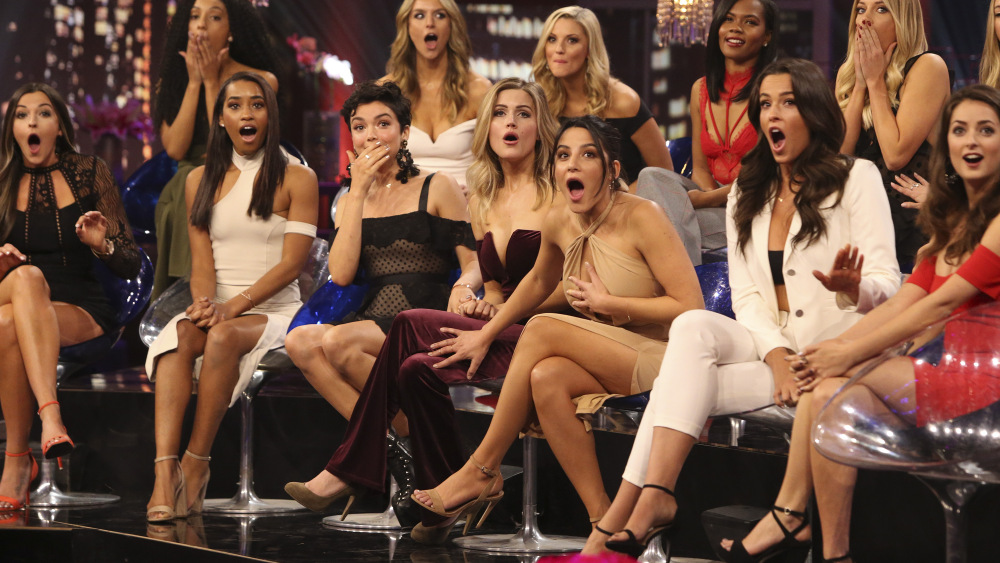 In  light of the most boring bachelor ever on this season's Bachelor, some news has been released about the series that is frankly kind of shocking. Los Angeles Times staff writer Amy Kaufman's new book, "Bachelor Nation: Inside the World of America's Favorite Guilty Pleasure" really sheds some light on the process that contests go through into order to become a contest on the show. It has some interesting tidbits about the process but the most illuminating fact is that contests were always disqualified based on whether they had herpes or not. One would assume that maybe there would be other reasons to disqualify a candidate but turns out the real culprit is herpes.
The process starts with filling out an extremely lengthy application and sending in 15 photos of themselves from different angles. Applicants must also produce of a video of themselves in a well-lit room, wearing a nice outfit as if they were going out to a nice dinner. The video needed to include the applicant talking about their life, their family, their pets, what they look for in a man and their ultimate date.
Producers then decided if they want that applicant to move on to the next round. The next round includes flying the applicant out to Los Angeles for an in-person audition. The applications then have to fill out a 150 question survey that is filled with true or false questions and multiple choice. Some of the questions sound pretty nuts. According to an article on the NY Post some of the questions asked were, "Do you have out-of-body experiences? Do you think you can control things with your mind? Have you ever wanted to kill someone? Some of these questions would be asked several times, with different wording."
The next step after the questionnaire was to have a one on one interview with a producer that would include candles and mood lighting. The on on one interview would last about 20 minutes and then the applicant was then ushered into a room that included 20 other producers. The applicant would then be peppered with rapid fire questions. The questions would start off fairly normal but then veer off into the absurd. Once the questioning was complete, the applicant then would be with the shows's therapist, Dr. Catherine Selden.
Dr. Selden, according to the NY Post article, "is a state-licensed psychologist who graduated from Pepperdine University and has no disciplinary actions against her license". She was made available to the cast members who asked for a therapist. The meeting with her would last an hour and she would mostly focus on asking questions that pertained to a person's mental health. Questions about their history of mental illness, drinking and cheating were asked of all applicants.
Next a private investigator would look into each of the applicants backgrounds for and scandals that could be used for potential story lines or to help the show get ahead of any potential gossip. The private investigator would look for sex scandals, arrests and any other negative information that could used against the contestant in one way or another.
The final step to the whole process is the medical examination. Applicants would be required to give blood and urine samples. these samples were tested for drugs and STD's. They would fill out a form about their medical history and if they had to take pills they were required to tell the medical professional conducting the test.
And it turns out that if the person had an STD, they were taken out of the running for the show. The article says that, "As soon as the medical tests came back, you'd see that herpes was the biggest thing,"said Ben Hatta, [creator and executive producer] Mike Fleiss's old assistant. "And sometimes you'd be the first person to tell a contestant that they had herpes. You'd be like, 'Uh, you should call your doctor.' Why? 'We're not going to be able to have you on our show, but you should call your doctor."
There is some questions however over how strict this vetting process is because there are some crazy people that appear on the show. Fleiss states that the process is so strict in order to weed out people that would be potentially hazardous to others or themselves. Fleiss said "We're really careful about who we let on the show. We lose a lot of great potential characters because we're so tough and stringent . . . Anyone who has any sort of borderline personality disorder or instability or any sort of past involving contemplation of suicide — we just can't take the risk. We just don't."
But some other past producers have stated that is not always the case. Sometimes the producers would see someone that they knew would be great for TV and gave them a pass because they knew that person would create made for TV drama.
The agreements that the contestants sign are iron clad. Each contests signs away their rights to privacy both on and off the house for at least 3 years after their season has aired. They agree to be filmed 24 hours a day, 7 days a week by not only cameras they can see but also hidden cameras. The most interesting part of the contract was that the show retains the right to "intentionally or unintentionally make misrepresentations or omissions concerning the Series". Meaning the show can do whatever they want with the footage of the contests.
After all that, people still decide to go on the show regardless of signing their life away. Too bad they didn't include some crazies on this season because Arie is a snooze fest. Let's hope that Caroline's revelation on the Women Tell All episode actually amounts to something good because we are dying of boredom.