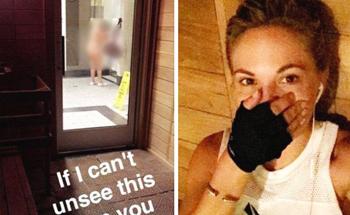 Human garbage in the form of Playboy model Dani Mathers, who has admitted to taking a photo of a naked, 70-year-old woman in a gym locker room and posting it on Snapchat, pleaded not guilty Monday to invasion of privacy. Mathers was not in court when hew attorney entered the plea on her behalf. Once her attorney entered her plea, he made a comment on his clients behalf. Defense attorney Tom Mesereau said, "She apologized for her behavior and we're looking forward to resolving this case in a very fair manner."
For those of you who aren't aware of this case, Mathers sparked widespread outrage after she shared a naked photo of an elderly fellow gym goer on Snapchat in July with the offensive caption: 'If I can't unsee this then you can't either.' She later apologized for body-shaming the elderly gym member and deleted her social media accounts after her snapchat went viral. The public was outraged by the post and the gym, LA Fitness, when they got wind of the offensive snapchat reported the posting to police and revoked Mathers' membership. Detectives began investigating after the LAPD received a report of 'illegal distribution' of the image, police Capt. Andrew Neiman said after the photo went viral.
After the photo went viral, Mathers tried to do an apology tour. The model first apologized for the Snapchat post in July, tweeting, "I'm sorry for what I did… I need to take some time to myself now to reflect on why I did this horrible thing." Mathers later claimed in an online video that she accidentally posted the photo publicly (which is complete BS in our opinion). She claimed in a clip posted to her Snapchat Story, "I just want to acknowledge a photo that I accidentally posted. It was absolutely wrong and not what I meant to do."
If convicted, Mathers could face up to six months in jail and a $1,000 fine. A pretrial hearing was set for December 21. And we truly hope that this women gets some jail time for what she did.