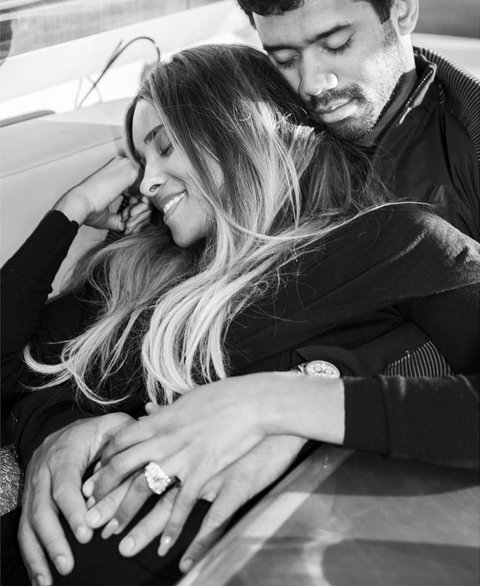 All those months of staying celibate must have made Russell Wilson extra potent. After only three months of marriage, Ciara and Russell announced that they are expecting a baby. Rumors have spreading that Ciara was pregnant again after she was seen sporting loose-fitting outfits on multiple occasions.  The singer announced the  news on Instagram while celebrating her 31st birthday on Tuesday. She shared a black and white photo which showed Russell rubbing her stomach and looking at her lovingly as they nuzzled into each other.
The couple was not shy about talking about their sex life. Ciara and the Seattle Seahawks quarterback, 27, decided to remain celibate until they were married. They made that announce publicly at the beginning of their relationship. Russell is a very devout Christian and made many comments about the difficulty of staying celibate with such a hottie for a girlfriend.  They were married in England on July 6, 2016 after a year of dating and then the flood gates were opened. The couple even made a Snap Chat Video the day after their wedding announcing that they ban on celibacy had ended.
Ciara, who is already a mom to 2-year-old son Future Zahir with rapper Future, was celebrating her 31st birthday when the announcement was made. Ciara and Future have been fighting since their separation over the custody of their son.