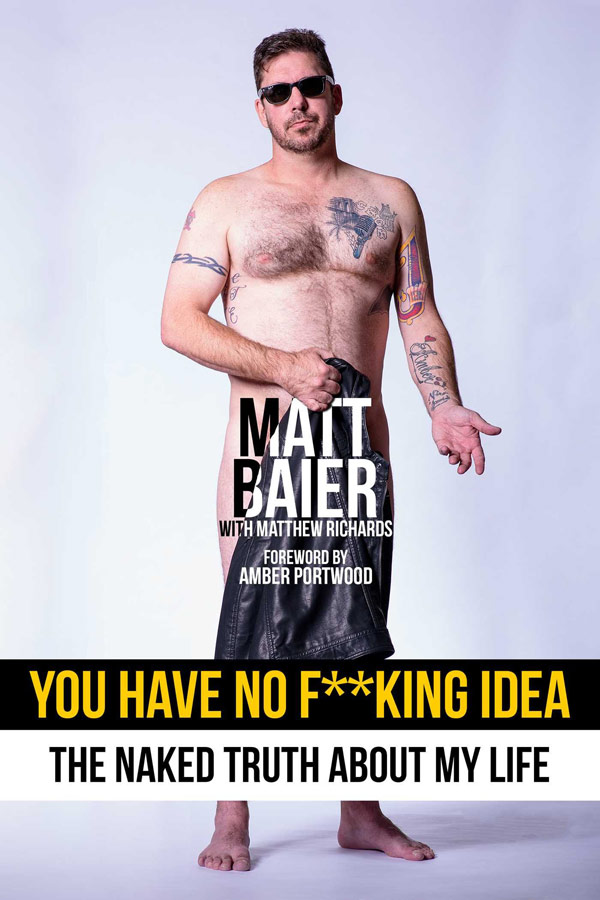 We literally cannot with this guy. He has always seemed like a lying scumbag who was using Amber for the spotlight. There has been a lot of conflicting information about Matt Baier out there so he decided it was high time to write a book to set the record straight. With the assistance of blogger Matt Richards, the book titled You Have No F**king Idea: The Naked Truth About My Life, is his way of righting all the wrongs that have been printed about him in the media. The book's cover is also a very unpleasant photo of Matt naked except with a leather jackets covering his private area. Even with the jacket we are still cringing to death over here. The book is due out in May 2017 but for those who are gluttons for punishment, you can preorder the book on Amazon.
For those who don't remember, Matt started dating Amber after he met her on Twitter. It later came out that he had reached out to other Teen Mom stars like Farrah and Jenelle on Twitter trying to get there attention but he was for good reasons ignored. Amber was the only one to actually respond. Once he started appearing on the show, numerous women had started to report that Matt was a deadbeat dad who got them pregnant and then just took off and has never paid a dime of child support. A total of seven women reported that he had fathered kids with them but he claims there are only five.
Here is a statement about the book from publisher Post Hill Press,
"Deadbeat Dad. Con Artist. Liar. Manipulator. If you believe the tabloid press about Teen Mom OG star Amber Portwood's fiancé Matt Baier, your opinions of him are most likely wrapped in scandalous rumors and gossip.
Forget everything you think you know about the tattooed, gravel-voiced reality TV star. In You Have No F**king Idea, Matt breaks his silence for the first time and sets the story straight by delving into his past, present and future—fully exposing the naked truth about his life—once and for all."
We are slightly interested in reading this book? He keeps admitting he has made some mistakes but yet claims that every that the evil media has written about him is false. So it's gonna be very interesting to see what he cops to in the book about his past. Personally, we think this is just another con job.