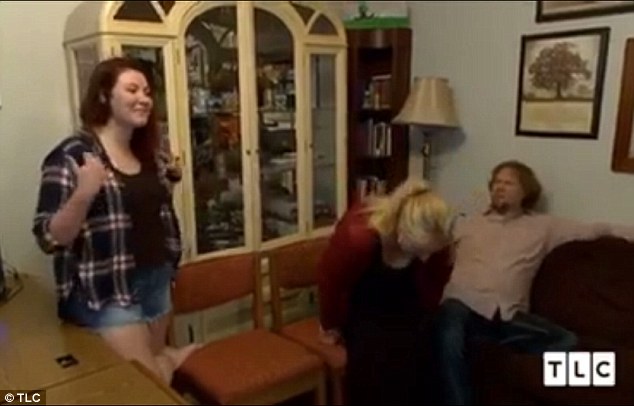 This is a twist we didn't see coming. Mariah, 21, the daughter of Kody and Meri, came out as a lesbian on the latest episode of the hit TLC show, Sister Wives. The episode showed Mariah gathering all her parents together to make a big announcement. After all the weddings that have happened on that show, it was a logical to assume that maybe she was getting married as well. But surprise! She is actually gay and we applaud her for coming out and being so open and honest about it.
Mariah is the only biological child of Kody and his first/ex wife Meri. She came home from college in Utah and called a family meeting with her parents and one grandparent. She told them that she has a big announcement to make. Her other mom, Christine, commented that she hoped the big news would be that she would be transferring from her college in Utah to UNLV, which is closer to home. Kody's guess was that she had already gotten into medical school and Mariah replied that she has even applied yet. Time seemed to drag on and poor Mariah looked unbelievably uncomfortable.
After the awkward small talk, Mariah blurted out her big news. She just simply stated, "I'm gay." Her mother Meri didn't say anything but her mouth fell open and her other mom's asked if she was serious and if she was sure. She responded that yes she was very sure. The episode ended with Mariah's big reveal but scenes from next week's episode show the aftermath of the announcement.
We are excited for next week's episode. The teaser scenes from next week show Meri struggling with Mariah's announcement. She cried and said, "I did not see it coming… I thought I knew my daughter, I didn't." Meri also is seen getting mad at Kody and Robin who appear happy about the news. Kody, in a surprise move said that he was just happy that she knows who she is. Meri seems to be pretty upset about the news.
We are happy for Mariah. It takes a lot to come out and we give her credit for being brave. It especially can't be easy to come out to your family on tv. Best of luck to her and we hope that her mom Meri can accept Mariah for who she is.