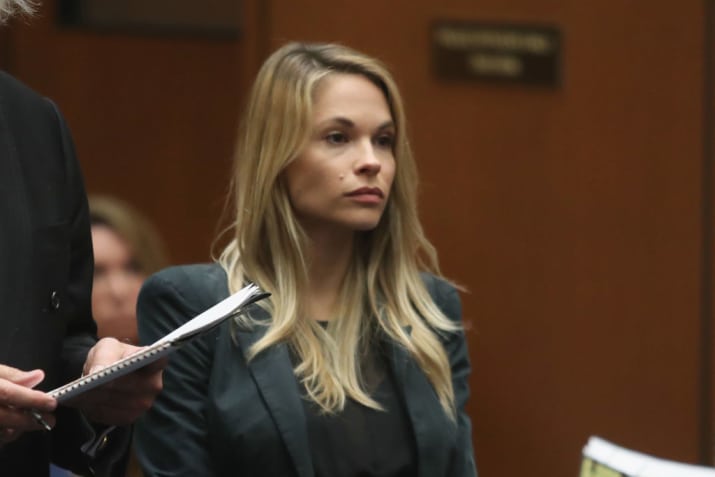 Former Playmate Dani Mathers had been sentenced for body shaming an older gym goer at an LA Fitness last year. She either can serve 45 days in jail or 30 days of community service removing graffiti after body-shaming a 71-year-old woman at an LA Fitness gym last July. On top of that, Mathers was  ordered to pay the woman $60 in restitution in order to replace a backpack seen in the photo in order to help protect the women's identity.
Mathers went to court on Wednesday to agree to a plea in her criminal invasion of privacy case. When presented with the two options of either serving jail time or community service, she chose the community service.
The victim decided to not be in court on Wednesday for the court hearing. The prosecutors said the victim was humiliated by the cruel act. "Body shaming can devastate its subject," Los Angeles City Attorney Mike Feuer said. "People are mocked, they're humiliated and in ways they can never fully get back."
Mathers' attorney addressed the media after the hearing saying that his client is happy to put this behind her. He said, "She really apologizes from the bottom of her heart for what happened. She never thought this would come out like this. Never intended to hurt anyone."
The 2015 Playmate of the Year was highly criticized for body-shaming the woman after secretly taking a photo of her naked in a locker room at an LA Fitness. Mathers then posted the photo to her Snapchat. She captioned the picture, "If I can't unsee this then you can't either". Mathers claimed that she only meant to send the Snapchat pic to a friend but instead she accidentally sent it to all of her followers. The media caught wind of her Snapchat snafu and soon Mathers lost jobs and says she got severely bullied online.