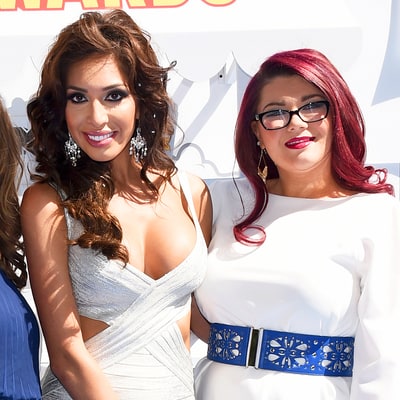 We have been hearing so many rumors about this alleged brawl on the Teen Mom OG Reunion Special and the episode with what was deemed the "biggest fight in Teen Mom history" was finally aired and we were not disappointed.
Rumors had been flying around about a fight that happened on set during the reunion special between Farrah Abraham and Amber Portwood. Sources watching the show claimed that the fight started because Farrah's drama loving boyfriend, Simon Saran, called Amber's boyfriend a pedophile. Dr. Drew was asking Simon about his negative SnapChats about his co-stars when he said that Matt Baier looks like a pedophile. When Dr. Drew said the comment was over the line, Farrah piped in with "I'm sorry that Matt probably looks like it!" and Amber was not going to let Farrah get away with saying that about her man. She stormed on stage and that is when all hell broke loose.
Amber ran out on stage screaming, ""F**k that f-ing bitch. Just because someone is 20 years older than you doesn't make them a pedophile. Shut your f-ing mouth. I'm going to stand up for my man." And that is the part of the story that the media reported and that is all Teen Mom fans knew until last night.
What people didn't see was Amber storm the stage and then slap Farrah across the face. People then tried to hold her back but when she was able to get through Farrah's dad, Michael, stepped in-between the two to get Amber to back down. Matt then pushed Michael to the ground. Things escalated pretty quickly at that point. Farrah then screamed, ""Both of the criminals will do s**t," Abraham shouted and then asked, "Michael, do you want to call the police on the criminals? Because they have to visit jail."
Amber and Matt were then ushered off stage by security and then things seemed to calm down. Co-stars, Maci Bookout and Catelynn Lowell came to her aid and helped to calm her down but they did express their displeasure with Farrah for her instigating the fight.
Dr. Drew continued his segment with Farrah and tried to discuss with her what just happened and how this is a complete 180 from where their relationship was at the beginning of the season. Amber and Farrah have always gotten along or at least had a mutual respect for each other. When Dr. Drew asked her about her friendship with Amber, Farrah responded with, "They want to hit people they want to behave like criminals that's them," she said. "It's not like I'm here to hit people. She's crazy and I don't want her in my life and anyone else who associates with her in my life."
Well it looks like these two won't be sharing friendship bracelets anytime soon. Farrah is constantly feuding with literally everyone. Everyone loves a bad guy on reality TV and Farrah is a perfect fit for that role. There is still fallout from this fight and fans have ever started a petition on change.org to get her kicked off the show. But we all know that is never going to happen, and Farrah knows it is not going to happen. As unbearable as she is, people will watch for her drama filled antics.