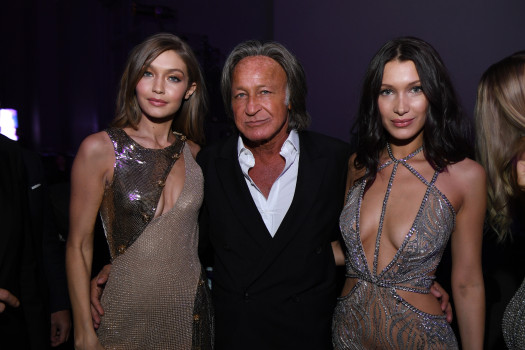 We have been reporting for awhile now about the prevalent sexual abuse that has been happening in the entertainment world. There are a lot of obvious instances out there of horrible sexual abuse (here's looking at you Weinstein) but then there are cases that seem a bit murky. We are all for the abusers getting outing for the scum that they are, but we also want to report on the other side of the issue. There seem to be a few men that have been accused of sexual harassment without any real evidence to back up those claims. Or evidence is presented that contradicts the accuser's claim. This latest case seems to be one the cases that is a bit murky.
Billionaire Mohamed Hadid was accused of date rape by a model who goes by Miranda Vee. The 23-year-old, Miranda 'Vee' Vasquez, made some claims on her social media about her interactions with Hadid in response to the #MeToo movement. She filed a police report with the Los Angeles police department and then scrubbed her social media of any mention of Hadid. The press had a field day with this information and everyone lumped him into the sexual accuser category.
But Hadid has now addressed the accusation by filing a lawsuit against his accuser and he has released documentation of their relationship. His lawsuits claims that he has evidence that Vasquez is lying about the rape and that she was actually trying to extort the sum of $8,000 out of him. his lawsuit also include a lot of sexually charged texts messages between the two of them that were sent both before and after the encounter. There were also numerous photos that Vasquez sent that showed her in lingerie and wearing a bikini. She texted Hadid that she missed him and his ummmm "member" (Vasquez used the eggplant emoji to convey this sentiment) and said that he was "sweet" and "nice". His paperwork claims that he is he's a victim of libel, slander, and defamation by Vasquez. His lawsuit says, "Vasquez is a pathological liar who acted with actual malice and her intentional wrongful defamatory actions constitute libel, slander and extortion."
The lawsuit says that she wanted him to pay her money to not go public with their hook up and threatened to go to the authorities if he didn't pay up. He did pay and she went public with her claims anyway. Vasquez has not publicly responded to the lawsuit and there is still no word from the LA police department about her claim.